INDEPENDENT RETAILER magazine is now the official news outlet for Wholesale Central visitors. Each monthly issue is packed with new product ideas, supplier profiles, retailing news, and business strategies to help you succeed.

See new articles daily online at IndependentRetailer.com.
EVOLVE, GIFTS FOR THE SENSES offers handmade, hand dipped, 11 inch incense sticks in a choice of 73 different premium fragrances. New scents, including exotic blends, are always being added.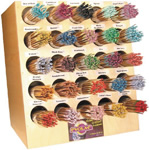 Among the most popular are patchouli, strawberry, box of rain, French vanilla and dragon's blood and dragon's lair, a new blend. All, except nag chompa, which is imported, are made in America.
The company sells in bundles of approximately 100 each of a single scent. The wholesale cost of a bundle is $3.70, and the suggested retail price is ten sticks for $1 or $2. Evolve maintains top sellers' lists for different markets and different types of stores, and will guide retailers to a selection that sells best. Retailers buying more than 100 bundles get a discount.
Three countertop displayers are available. One holds 24 different fragrances, another holds 25, and a third holds quantities of 42 different fragrances. The 25 unit model is a wooden display that holds 25 bundles, and comes with six more free bundles and 200 retail bags, also free.
The minimum order is $100, and can include any of the company's incense fragrances and other products, which include votives, pillars and incense burners.
For more information, contact:
Evolve, Gifts for the Senses
22 Canal Street Ste. 23
Somersworth, NH 03878
Toll Free: 800-869-9134
Tel.: 603-692-4800
Fax: 603-692-9804
Website: www.shopevolve.com
Entire contents ©2023, Sumner Communications, Inc. (203) 748-2050. All rights reserved. No part of this service may be reproduced in any form without the express written permission of Sumner Communications, Inc. except that an individual may download and/or forward articles via e-mail to a reasonable number of recipients for personal, non-commercial purposes.