INDEPENDENT RETAILER magazine is now the official news outlet for Wholesale Central visitors. Each monthly issue is packed with new product ideas, supplier profiles, retailing news, and business strategies to help you succeed.

See new articles daily online at IndependentRetailer.com.
R EXPO (USA) INC. is the exclusive source for five new Nag Champa incense fragrances. They are Sandalwood, Patchouli Forrest, Midnight, Sunrise and Celestial.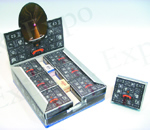 Nag Champa incense has remained popular in the US for the past 20 years and now captures 60 percent of the US incense market. Sales of these exclusive new fragrances are beating all expectations, according to R Expo. All come in eight inch sticks and are offered in two sizes: 15 gram and 40 gram.
They are shipped in quantities of a dozen boxes. Boxes of the 15 gram size contain about 12 sticks, and boxes of the 40 gram size contain about 30 sticks. The 15 gram size wholesales for $6.50 per dozen boxes, and the suggested retail price is between $1 and $1.99 per box.
The 40 gram size wholesales for $16 per dozen boxes, and the suggested retail price is $2.50 to $4.50 per box. The minimum order is $100, and it can include an assortment of fragrances and sizes.
A countertop displayer is available for either size for an additional $1. It will hold 72 units, which includes one each of the five new fragrances, plus one of traditional Nag Champa.
For more information, contact:
R Expo (USA) Inc.
1112 South 344th Street, Unit 309
Federal Way, WA 98003
Toll Free: 800-231-2201
Tel.: 253-661-1779
Fax: 253-661-6517
Website: www.rexpoindia.com
Entire contents ©2023, Sumner Communications, Inc. (203) 748-2050. All rights reserved. No part of this service may be reproduced in any form without the express written permission of Sumner Communications, Inc. except that an individual may download and/or forward articles via e-mail to a reasonable number of recipients for personal, non-commercial purposes.