INDEPENDENT RETAILER magazine is now the official news outlet for Wholesale Central visitors. Each monthly issue is packed with new product ideas, supplier profiles, retailing news, and business strategies to help you succeed.

See new articles daily online at IndependentRetailer.com.
FATAL FUNNEL offers the means of trapping and killing wasps and hornets quickly, easily and affordably. Fatal Funnel units consist of two small plastic funnel shaped traps, instructions for installing them on two liter soda bottles, and a recipe for making a wasp and hornet attractant from every day household ingredients.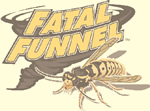 The funnels are yellow, a color that appeals optically to hornets and wasps in search of nourishment, and attracts them to the trap. After filling the bottom of the bottle with the attractant, cut a two inch cross hair opening in the bottle, above the fluid line, and insert the funnel. It has barbs that secure it to the bottle. For best results, add a second funnel on the other side of the bottle and cut a few small holes at the top of the bottle. This helps ventilate, spreading the lure of the attractant to make it more effective.
Wasps and hornets smell the food source, go through the funnel and become trapped in the bottle. The recipe consists of apple or pineapple juice, sugar, and one or two pieces of raw meat, fish or cat food. A drop of mild dish soap can also be added.
Full instructions along with the precise recipe are included in the units, which hold a pair of funnels. The units come preloaded on a clip strip containing 12 units each and are shipped 24 units, consisting of two clip strips, to a case. The minimum order is $100. The wholesale price of Fatal Funnel is $1.41 a unit. Suggested retail is between $2.99 and $3.99 a unit.
For more information, contact:
Fatal Funnel
5481 West 2000 South
Mendon, UT 84325
Tel.: 435-755-6858
Fax: 435-755-6859
Website: www.fatal-funnel.com
Entire contents ©2023, Sumner Communications, Inc. (203) 748-2050. All rights reserved. No part of this service may be reproduced in any form without the express written permission of Sumner Communications, Inc. except that an individual may download and/or forward articles via e-mail to a reasonable number of recipients for personal, non-commercial purposes.