INDEPENDENT RETAILER magazine is now the official news outlet for Wholesale Central visitors. Each monthly issue is packed with new product ideas, supplier profiles, retailing news, and business strategies to help you succeed.

See new articles daily online at IndependentRetailer.com.
COASTAL DISTRIBUTORS introduces three new categories of its Wildwear brand, no-pierce body jewelry. They are magnetic studs with rubber spike designs that can be applied to the ear, lip or nose; spring loaded hoops for the ear, lip, nose or belly button, and a suction tongue ball that adheres to the tongue.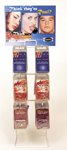 Among the new hoop designs is a version of UV plastic that glows in the dark. There are two new versions of the suction tongue ball. One has red, white and blue stripes, and the other is red and black in a design that looks like a spider web.
There are now more than 60 designs of Wildwear non-piercing body jewelry, and additional designs are due in the spring. The minimum order is $100, and there is a starter display of an assortment of 72 designs that wholesales for $99. The selection is from among the company's best sellers in each category. It provides retailers with a return of between 300 and 400 percent.
Units typically wholesale for $1.50 and have a suggested retail price of $5 to $7 or more. The primary target is teens. Management notes that some states do now allow piercing of people under 18 years of age.
No-pierce body jewelry appeals to parents, teachers and employers, since there are some jobs that do not permit the wearing of body jewelry. Because Wildwear is removable, it is also popular with adults, who buy pieces for fun.
For more information, contact:
Coastal Distributors
552-9 Bean Creek Road
Scotts Valley, CA 95066
Toll Free: 800-425-0554
Tel.: 831-430-0724
Fax: 831-430-0613
Website: www.wildwear.com
Entire contents ©2022, Sumner Communications, Inc. (203) 748-2050. All rights reserved. No part of this service may be reproduced in any form without the express written permission of Sumner Communications, Inc. except that an individual may download and/or forward articles via e-mail to a reasonable number of recipients for personal, non-commercial purposes.