INDEPENDENT RETAILER magazine is now the official news outlet for Wholesale Central visitors. Each monthly issue is packed with new product ideas, supplier profiles, retailing news, and business strategies to help you succeed.

See new articles daily online at IndependentRetailer.com.
RAY SANDS GLASS has introduced Aquapel, a hydrophobic formula that actually bonds to windshields and prevents rain and snow from sticking. Hydrophobic means it hates water, and therefore sheds it.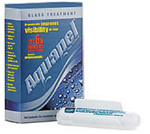 Unlike many films that are available to repel water, ice and snow, Aquapel actually bonds to the glass. It also allows bugs to slide off without leaving a mark.
Aquapel comes in a vacuum packed container with an applicator. Clean the window, then simply wipe it on, then wipe it off and re do the windshield area a second time.
There is enough Aquapel in a single unit to cover the windshield, glass on two front doors and on two rearview mirrors. It is easy to apply and installs in minutes. The application lasts six months on windshields and up to a full year on side windows.
While there is technically no minimum order, the supplier recommends that retailers buy a 24 unit pack for $96.95, which translates to $4.04 a unit. Aquapel is packaged for pegboard display. The suggested retail price is $14.95.
For more information, contact:
Ray Sands Glass
3315 Chili Avenue
Rochester, NY 14624
Tel.: 585-889-2876
Fax: 585-889-5447
Website: www.raysandsglass.com
Entire contents ©2022, Sumner Communications, Inc. (203) 748-2050. All rights reserved. No part of this service may be reproduced in any form without the express written permission of Sumner Communications, Inc. except that an individual may download and/or forward articles via e-mail to a reasonable number of recipients for personal, non-commercial purposes.