INDEPENDENT RETAILER magazine is now the official news outlet for Wholesale Central visitors. Each monthly issue is packed with new product ideas, supplier profiles, retailing news, and business strategies to help you succeed.

See new articles daily online at IndependentRetailer.com.
SPIN SHADES CORP. introduces Spin Shades. It is an exclusive, patented night light with a shade that spins from the heat of the light bulb. The design was originally based on an antique Christmas ornament from the 1940s, which this company adapted into a UL listed night light.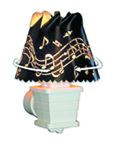 It has developed approximately 300 different shade designs for the unit, which is about 4.5 inches tall and three inches wide at the widest portion of the shade. The base is patterned after an antique gas lamp, and there is an on/off switch at the bottom.
The shades are laser cut, which allows them to cast subtle, soothing sparkles of light and shadow around the room. The shade designs cover a range of painted themes, including florals, sports, beach scenes, cowboys, inspirational sayings, animals, Mom, and children's designs. The units come with a standard seven watt night light bulb, which is replaceable.
The requirement for an initial order is $150, and the minimum reorder is $100. The wholesale price is $6 a unit, which includes the base and shade in a color box with a window that shows the design. Retailers can select the shade designs or get a selection of the company's best sellers. The suggested retail price is $12.95 each.
A store display unit is offered for $40. It is about 28 inches tall, 11.5 inches wide and three inches deep, and it can accommodate eight units, which all operate from a single electric plug. The display includes four extra units, which offsets the cost of the displayer.
One of the most popular deals is an order for 44 units in an assortment of best selling shades for a wholesale cost of $256. Eight of the units are free, which also includes a free display.
For more information, contact:
Spin Shades Corporation
2674 East Main Street, Ste. D 140
Ventura, CA 93003
Toll Free: 800-456-7511
Tel.: 805-650-4849
Fax: 805-650-9554
Website: www.spinshades.com
Entire contents ©2023, Sumner Communications, Inc. (203) 748-2050. All rights reserved. No part of this service may be reproduced in any form without the express written permission of Sumner Communications, Inc. except that an individual may download and/or forward articles via e-mail to a reasonable number of recipients for personal, non-commercial purposes.