INDEPENDENT RETAILER magazine is now the official news outlet for Wholesale Central visitors. Each monthly issue is packed with new product ideas, supplier profiles, retailing news, and business strategies to help you succeed.

See new articles daily online at IndependentRetailer.com.
OLIBLOCK offers its exclusive invention of OliZoid. It is a three dimensional jigsaw type puzzle that challenges and delights anyone from age three to adulthood. It consists of 15 wavy shaped pieces that fit together to form a curved top form that measures about five inches tall, 3.5 inches wide and 1.5 inches deep.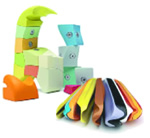 The OliZoid pieces contain one to four magnets to hold them in place, correctly or not. While there's just one way to combine them into the original OliZoid shape, kids and others have fun putting them together in improbable ways. The pieces are made of hard plastic, and there are three versions of OliZoid. One, referred to as the cool version, has horizontal rows of translucent colors when complete. Another has a mix of seven different translucent colors, and the third has a mix of seven different opaque colors.
The minimum order quantity is a case of 10 units. The wholesale price is $8.50 a unit, and the suggested retail runs from $17 to as much as $22. The company charges an additional $3 for a case of assorted versions of OliZoid.
For more information, contact:
Oliblock
101 Point Lobos Avenue, #307
San Francisco, CA 94121
Toll Free: 866-272-2867
Tel.: 415-387-9007
Fax: 415-666-9964
Website: www.oliblock.com
Entire contents ©2022, Sumner Communications, Inc. (203) 748-2050. All rights reserved. No part of this service may be reproduced in any form without the express written permission of Sumner Communications, Inc. except that an individual may download and/or forward articles via e-mail to a reasonable number of recipients for personal, non-commercial purposes.