INDEPENDENT RETAILER magazine is now the official news outlet for Wholesale Central visitors. Each monthly issue is packed with new product ideas, supplier profiles, retailing news, and business strategies to help you succeed.

See new articles daily online at IndependentRetailer.com.
GO-NATURAL INC. offers the All-In-One Cosmetic, a single product that self adjusts to individual natural pigments and bone structure to produce a perfect natural color fit with each user.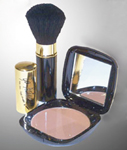 The silky pressed powder replaces eight different types of cosmetics, to apply blush, foundation, eye shadow, concealer, brow and lip color in a single application, while it also blends away imperfections and produces a natural healthy glow. Simply brush it on, and daily make up is completed in seconds. All-In-One Cosmetic works with all ages and all skin colors. It is shown on TV and is already offered at more than 450 upscale salons and spas. It is offered to retailers in an introductory set and a salon set.
The introductory set contains one dozen eight gram units at a wholesale price of $259.59, or about $21.63 a unit. A free brush, valued at $35, is included with each unit as a gift with purchase, and the suggested retail price is between $40 and $45 a unit.
The eight gram size of All-In-One Cosmetic lasts for six to 12 months. The introductory set comes with a free full color point of sale sign. A DVD of the one minute commercial used on television promotions is available for $5.95.
The salon set includes one dozen, plus one free 14 gram size unit of All-In-One Cosmetic, each with the brush and a lip applicator, for $369.95, or about $30.83 per unit for each of the 12. Units of this size last for one to two years.
The salon set is offered in a more upscale display. The suggested retail price is between $60 and $65 a unit. Retailers also get a free listing on the company's website, which drives customers to the store.
For more information, contact:
Go-Natural Inc.
1421 East Sunset Road, Ste. 15
Las Vegas, NV 89119
Toll Free: 877-993-7676
Tel.: 702-449-2097
Fax: 702-949-9840
Website: www.go-natural.net
Entire contents ©2021, Sumner Communications, Inc. (203) 748-2050. All rights reserved. No part of this service may be reproduced in any form without the express written permission of Sumner Communications, Inc. except that an individual may download and/or forward articles via e-mail to a reasonable number of recipients for personal, non-commercial purposes.