INDEPENDENT RETAILER magazine is now the official news outlet for Wholesale Central visitors. Each monthly issue is packed with new product ideas, supplier profiles, retailing news, and business strategies to help you succeed.

See new articles daily online at IndependentRetailer.com.
SUNSHINE ENTERPRISES introduces an LED lighted open/closed sign for stores and for retailers to sell. Unlike neon signs that fade quickly in broad daylight, the LED sign attracts attention day and night.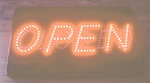 It plugs into an ordinary electric outlet and measures 13 inches wide and two inches high. It is toxin free, cool and safe to touch, emits a light that is 10 times brighter than neon and operates 24 hours a day, seven days a week.
When the store opens, push a switch on the sign and its spells "open" in bright red. When closing the store, push the switch, and it spells "closed" in bright blue.
The sign retails for $150 a unit. On orders of two to 10, the cost drops to $100 a unit, and on orders of 10 units or more, the cost is $85 a unit. Sunshine Enterprises accepts checks, money orders and all major credit cards.
The company also has a neon Harley Davidson motorcycles logo sign that is 33 inches tall by 22 inches wide, particularly popular for bikers who like to place them in dens and family rooms. These wholesale for $200, and the suggested retail is $300 a unit or more.
For more information, contact:
Sunshine Enterprises
8152 Drew Street
Englewood, FL 34224
Tel.: 941-697-6989
Entire contents ©2021, Sumner Communications, Inc. (203) 748-2050. All rights reserved. No part of this service may be reproduced in any form without the express written permission of Sumner Communications, Inc. except that an individual may download and/or forward articles via e-mail to a reasonable number of recipients for personal, non-commercial purposes.