INDEPENDENT RETAILER magazine is now the official news outlet for Wholesale Central visitors. Each monthly issue is packed with new product ideas, supplier profiles, retailing news, and business strategies to help you succeed.

See new articles daily online at IndependentRetailer.com.
INVENTIST introduces The Orbit Wheel, which is a cross between the skateboard and inline skates. It is sold in pairs. One size fits all, and is in the shape of a hoop that slides over the shoe. As The Orbit Wheel moves in a circle, the foot rest stays in one spot, propelling the motorless vehicle. It is designed with expanded versatility that can move on grass, as well as hard surfaces, and move easily from one surface to another. In addition to being easier to use than either a skateboard or skates, it can go in circles and allows for a much wider variety of trick actions. There is no buckle; it simply slides over the shoe.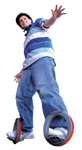 The Orbit Wheel weighs about five pounds per pair, and comes in a 12 inch square box. It measures about 10 inches in diameter. There is no minimum order, but the wholesale price declines on volume orders. A sample unit is offered to retailers for a wholesale price of $74. On an order of eight units, the wholesale price is $65. Suggested retail is $119.95.
Instructions for use, including a range of trick actions, are shown on the company website. On request, retailers can obtain an instructional DVD for free.
For more information:
Inventist
4901 Northwest Camas Meadows Drive
Camas, WA 98607
Tel.: 360-833-2357
Fax: 360-833-1914
Website: www.inventist.com
Entire contents ©2022, Sumner Communications, Inc. (203) 748-2050. All rights reserved. No part of this service may be reproduced in any form without the express written permission of Sumner Communications, Inc. except that an individual may download and/or forward articles via e-mail to a reasonable number of recipients for personal, non-commercial purposes.