INDEPENDENT RETAILER magazine is now the official news outlet for Wholesale Central visitors. Each monthly issue is packed with new product ideas, supplier profiles, retailing news, and business strategies to help you succeed.

See new articles daily online at IndependentRetailer.com.
MIDWESTERN WHOLESALE introduces Neckbuddy, a body cooling neck wrap that combines red, white and blue in a flag design, just in time for the July 4th holiday. Neckbuddy is a poly/cotton wrap filled with poly crystals.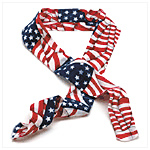 It measures 42 inches long and is 2-1/8 inch wide, sized to comfortably wrap around the neck. It does not require refrigeration. Simply soak in cold water, wrap it, and it keeps the wearer cool for hours, making it ideal for gardening, sports events and other outdoor activities.
There is no minimum order, no membership requirement or monthly fee. The wholesale cost of Neckbuddy is $4.41, and discounts are available for volume orders. The suggested retail price is $9.95. Neckbuddy is just one of several holiday products the company offers for all holidays, in addition to its vast selection of novelties, gifts and home and garden décor products. All items are described and shown on the company's website.
Retailers can order from the web or by phone or fax. Midwestern Wholesale also provides live customer support, so retailers can call with questions. It is a strictly wholesale supplier, offering true wholesale pricing. The company also provides weekly and monthly specials.
For more information:
Midwestern Wholesale
444 East Roosevelt Road
Lombard, IL 60148
Toll Free: 800-931-7503
Fax: 630-626-3795
Website: www.midwesternwholesale.com
Entire contents ©2022, Sumner Communications, Inc. (203) 748-2050. All rights reserved. No part of this service may be reproduced in any form without the express written permission of Sumner Communications, Inc. except that an individual may download and/or forward articles via e-mail to a reasonable number of recipients for personal, non-commercial purposes.