INDEPENDENT RETAILER magazine is now the official news outlet for Wholesale Central visitors. Each monthly issue is packed with new product ideas, supplier profiles, retailing news, and business strategies to help you succeed.

See new articles daily online at IndependentRetailer.com.
ORTERY TECHNOLOGIES INC. has developed and patented Photosimile, which is a desktop photo "studio" controlled by proprietary software. It enables a retailer or online merchant to make photos of products for use on a website, in a catalog, on promotion pieces and in emails to customers and prospects.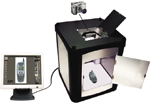 It takes its name from "facsimile." Photosimile produces dimensional images in full color. It includes a light box, which is a controlled lighting environment. Daylight balanced bulbs eliminate shadows on the object being photographed, and the comprehensive software required to utilize the photos in a variety of applications. Kits include a tripod, product stand and complete instructions. It requires the use of a digital camera and will accommodate 35 different units made by Cannon and Olympus, which covers cameras that provide between 3.2 and 12 mega pixels. Ortery sells digital cameras, not included with Photosimile.
The Photosimile software works with personal computers that utilizes any Windows PC program, except Windows Vista. There are programs that can make the software work on a Mac.
Three different versions of the light box, called a "studio," are available. The largest is about 24 by 24 by 28 inches. Two are brushed aluminum and a third, lower cost unit, is made of a high quality resin. Anything that fits in the studio can be photographed, including jewelry, cell phones, accessories, sunglasses, shoes, apparel and collectibles.
Use requires placement of the object in the studio. The program provides preview, zoom, rotate and crop capabilities, and shows the image on the computer screen. Adjustments can be made prior to taking the final photo. Within five seconds, the user can determine if the photo is good.
The program allows the user to add text and other annotations, such as price, arrows and circles or squares for drawing attention to special features. Applying this information to the photo eliminates the need to revisit photos. The photo is instantly available for a range of uses.
The program allows the photo to be saved in high resolution for a jpg or tif, or in low resolution for the web. It allows batch processing of size, name and a watermark, which protects it from being reused by anyone other than the original photographer.
Pricing is based on the size and version of the Photosimile, and ranges from $1,050 to $1,800 for the largest, brushed aluminum version.
For more information, contact:
Ortery Technologies Inc.
Eight Hammond, Ste. 112
Irvine, CA 92618
Tel.: 949-859-5580
Website: www.ortery.com
Entire contents ©2023, Sumner Communications, Inc. (203) 748-2050. All rights reserved. No part of this service may be reproduced in any form without the express written permission of Sumner Communications, Inc. except that an individual may download and/or forward articles via e-mail to a reasonable number of recipients for personal, non-commercial purposes.