INDEPENDENT RETAILER magazine is now the official news outlet for Wholesale Central visitors. Each monthly issue is packed with new product ideas, supplier profiles, retailing news, and business strategies to help you succeed.

See new articles daily online at IndependentRetailer.com.
MY SHOPPING TREE introduces dog collars that are personalized and customized through the use of letters and symbols that slide into a track on the collar. The collar itself is patent leather and comes in black, white or pink, in sizes to fit any dog, from a Chihuahua to a Great Dane.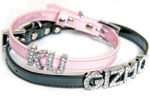 The letters and charms are of molded metal with crystals for sparkle. A starter kit of letters in 10 millimeter size wholesales for $60. It includes 300 pieces, containing 15 of the most common letters of the alphabet, 10 of most letters and just five of X and Z.
The slider letters and charms come in sizes ranging from 10 to 18 millimeters, to match with the sizes of the collars, which are sold separately. The wholesale price of collars ranges from $2 to $2.50, depending on size. There are approximately two dozen different charms that fit in the sliders, and they include crystal paws, bones, hearts, crowns and stars. Charms are sold in packages of five, and the wholesale price per pack ranges from $3.75 to $7.50, depending on size.
The retailer configures the customized collars in the store. A fully fitted collar, including letters and charms, typically retails for between $30 and $35.
For more information, contact:
My Shopping Tree
1183 Oak Ridge Road
Denison, TX 75021
Tel.: 903-337-0400
Fax: 707-313-0400
Website: www.myshoppingtree.com
Entire contents ©2022, Sumner Communications, Inc. (203) 748-2050. All rights reserved. No part of this service may be reproduced in any form without the express written permission of Sumner Communications, Inc. except that an individual may download and/or forward articles via e-mail to a reasonable number of recipients for personal, non-commercial purposes.