INDEPENDENT RETAILER magazine is now the official news outlet for Wholesale Central visitors. Each monthly issue is packed with new product ideas, supplier profiles, retailing news, and business strategies to help you succeed.

See new articles daily online at IndependentRetailer.com.
SOUTH MILL DESIGN LLC has created Phubby the Wrist Cubby, a lycra spandex wrist band with a pocket. Phubby slips over the wrist and fits snugly to hold a cell phone, iPod, keys, credit card or cash.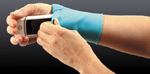 Phubby is approximately five inches long, has a Velcro closure, and allows the wearer to keep a cell phone or other important item close, while keeping hands free. The vibration of a cell phone can be felt. This has made Phubby especially popular for nurses, patients, mothers, students and other people on the go, and its pricing makes it an ideal gift.
There is a patent pending on the design, and Phubby is offered in a choice of 21 different solid colors and prints. They include a range of bright solids, dot, heart, leopard, tie-dye, camouflage and other fashion prints. The name, Phubby, derives from a focus group in which participants dubbed it a phone cubby.
The minimum opening order is 24 units, and the order comes with a small countertop display stand that holds two hands wearing a Phubby, a couple of try on samples and signage. Retailers can choose the colors in the order, or South Mill Design will select best sellers.
The company recommends beginning with six different colors or prints. With an order of 48 units, the company will include a free spinner display. The wholesale price is $6.25, and the suggested retail price is around $12.95.
For more information, contact:
South Mill Design LLC
131 South Mill Road
Princeton Junction, NJ 08550
Toll Free: 877-466-0273
Fax: 609-716-8094
Website: www.phubby.com
Entire contents ©2023, Sumner Communications, Inc. (203) 748-2050. All rights reserved. No part of this service may be reproduced in any form without the express written permission of Sumner Communications, Inc. except that an individual may download and/or forward articles via e-mail to a reasonable number of recipients for personal, non-commercial purposes.