INDEPENDENT RETAILER magazine is now the official news outlet for Wholesale Central visitors. Each monthly issue is packed with new product ideas, supplier profiles, retailing news, and business strategies to help you succeed.

See new articles daily online at IndependentRetailer.com.
LEGENDARY GAMES INC., originator of the Farkel Factory and the pocket farkel, has introduced another version of a small, portable farkel game. It is Pirate Farkel.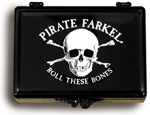 Pirate Farkel comes in a small plastic box about three inches wide, two inches high and 3/4 inches deep, about the size of a mini sewing kit. It is black and has a flip lid. Inside are six black dice, and the number one on each is the design of a skull and crossbones.
The minimum order is 24 pieces, and they come with a free countertop displayer for impulse appeal. The wholesale cost is $3.50, and suggested retail is $6.95.
The company has been in business for 12 years and has a customer base of around 6,000 independent retailers. As the Farkel Factory, its specialty is novelty dice that people can carry anywhere. The original pocket farkel is packaged in a 35 millimeter film can.
For more information, contact:
Legendary Games Inc.
D/ba The Farkel Factory
1300 East 47th Street South
Derby, KS 67037
Toll Free: 888-454-2637
Tel.: 316-733-7630
Fax: 316-733-7134
Websites: www.pocketfarkel.com and www.farkelfactory.com
Entire contents ©2023, Sumner Communications, Inc. (203) 748-2050. All rights reserved. No part of this service may be reproduced in any form without the express written permission of Sumner Communications, Inc. except that an individual may download and/or forward articles via e-mail to a reasonable number of recipients for personal, non-commercial purposes.