INDEPENDENT RETAILER magazine is now the official news outlet for Wholesale Central visitors. Each monthly issue is packed with new product ideas, supplier profiles, retailing news, and business strategies to help you succeed.

See new articles daily online at IndependentRetailer.com.
SOOTHEZE introduces a line of Sootheze heat/cold therapy wraps that come in the charming disguise of cozy plush animals called, Toasty Bear & Friends. There are now more than 70 different plush animal wraps in the collection.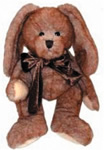 Among them are Toasty Bunnies in white or brown, Waddles the Duck, and Reggie and Rosey Rabbit. Each polyester plush animal has a distinctive personality, and all contain a pack of flax seed and herbs, with omega 3 healing properties. The contents are USDA approved, and flax seed is chosen because it is very good at temperature retention and doesn't break down, lump or clump. The contents will last for about five years under normal use.
The collection encompasses several sizes, designed for different pain relieving uses. The largest weighs four pounds and is about 18 inches tall. It is recommended for lumbar and back pain. The smallest weighs a half pound and is about the size of a wrist. There is a neck collar with three chambers to relieve tension around the neck.
The wholesale prices range from $8.95 for smaller sea creatures to $18.95 for the larger bears, tigers and raccoon. The suggested retail price is double wholesale, and there is no minimum order.
Sootheze has configured a variety of retail occasion kits, which add to impulse appeal in stores, and also give retailers a price break. An Easter kit, for example, contains two dozen Sootheze, including seven different bunnies and some yellow ducks. The normal wholesale price would be $360, but as a kit, it wholesales for $310 (15 percent discount). The retail value is $730. Occasion kits are also available for Mother's Day and other holidays and seasons.
For more information, contact:
Sootheze
4055 Clipper Court
Freemont, CA 94538
Toll Free: 888-766-8439
Tel.: 510-657-4577
Fax: 510-657-4227
Website: www.sootheze.com
Entire contents ©2022, Sumner Communications, Inc. (203) 748-2050. All rights reserved. No part of this service may be reproduced in any form without the express written permission of Sumner Communications, Inc. except that an individual may download and/or forward articles via e-mail to a reasonable number of recipients for personal, non-commercial purposes.