INDEPENDENT RETAILER magazine is now the official news outlet for Wholesale Central visitors. Each monthly issue is packed with new product ideas, supplier profiles, retailing news, and business strategies to help you succeed.

See new articles daily online at IndependentRetailer.com.
PHILLIPS INTERNATIONAL Inc. has added more than 80 different designs of "Peace Sign" jewelry to its extensive Cool Jewels line, giving retailers an opportunity to participate in the rising popularity of the peace sign symbol. The designs include all jewelry categories and encompass a wide variety of materials.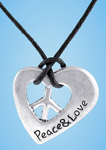 There are earrings, bracelets, necklaces and finger and toe rings featuring the immediately recognizable peace sign. Units are offered with rhinestones, in pewter and sterling silver finishes, and with mood stones, fimo, and glow in the dark finishes. Leather, stainless steel, rope, beaded and wood units are also in this extensive line. Included are units that combine the peace sign with miniature elephants, dolphins, a sea turtle and butterfly, among other designs. In some pieces, the peace sign is formed within a heart, and there are special units designed for children and teens.
Wholesale prices range from $1.25 to $3.25 a unit, depending on style. The suggested retail runs from $3.99 to $10.99. A wide range of point of sale displayers containing top sellers are offered for free. Typically, the wholesale price averages $2.22, and the suggested retail is $6.99.
One two sided display contains 120 assorted necklaces and bracelets for a total wholesale cost of $297.50, which translates to $2.48 a unit. Another displayer holds 144 children's peace sign jewelry units for a wholesale price of $319.50, or $2.22 a unit. There is also a toe and ring finger display, and a mood peace sign jewelry display.
For more information:
Phillips International Inc.
717 Northwest Second Street
Hallandale, FL 33009-4017
Toll Free: 800-432-3636
Tel.: 954-456-5444
Fax: 954-456-5501
Website: www.cooljewels.com
Entire contents ©2023, Sumner Communications, Inc. (203) 748-2050. All rights reserved. No part of this service may be reproduced in any form without the express written permission of Sumner Communications, Inc. except that an individual may download and/or forward articles via e-mail to a reasonable number of recipients for personal, non-commercial purposes.