INDEPENDENT RETAILER magazine is now the official news outlet for Wholesale Central visitors. Each monthly issue is packed with new product ideas, supplier profiles, retailing news, and business strategies to help you succeed.

See new articles daily online at IndependentRetailer.com.
PODILLOW INC. introduces PODillow, a pillow and base for use at the beach, on a massage table or elsewhere that not only ensures comfort, regardless of position, but also adds convenience. It consists of a soft foam base and a fabric pillow filled with micro beads of polystyrene, which make it mold to the face and head for a snug fit.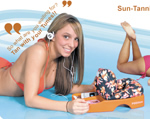 The base has open arches to allow air to flow through, keeping the user comfortable. It also has two pockets to hold an iPod, cell phone or other object, keeping them safe, clean and handy. The user can attach an ear set to the iPod and listen to music and also hear the cell phone ring. PODillow comes in a vinyl drawstring backpack that can also hold lotion, a book or other important small objects. It was created by the founder of the company and is exclusive to this supplier. There are four choices of fabric prints for the pillow portion: Blue Hawaiian, Orange Hibiscus, Pink Heart and Pink Daisy. They are washable and attach to the base with velcro. There are three different base colors: blue, pink and orange to coordinate with the pillows. The wholesale price is $14, and suggested retail is $29.95. The minimum order is 10 pieces and can be in any combination of colors and prints. For more information, contact:
PODillow Inc.
9640-B Mission Gorge Road
Santee, CA 92071
Toll Free: 800-546-7481
Tel.: 619-402-8480
Website:
www.podillow.com
Entire contents ©2023, Sumner Communications, Inc. (203) 748-2050. All rights reserved. No part of this service may be reproduced in any form without the express written permission of Sumner Communications, Inc. except that an individual may download and/or forward articles via e-mail to a reasonable number of recipients for personal, non-commercial purposes.