INDEPENDENT RETAILER magazine is now the official news outlet for Wholesale Central visitors. Each monthly issue is packed with new product ideas, supplier profiles, retailing news, and business strategies to help you succeed.

See new articles daily online at IndependentRetailer.com.
Any Time Wholesale has introduced a new line of inspirational watches. The new Power Of Prayer watches are specifically designed for fundraisers and retail stores specializing in inspirational products. The inspiration for the new line came from the many requests the company has received for a watch that customers could wear to church. Any Time Wholesale also received many requests for a watch that churches could use as a fundraiser.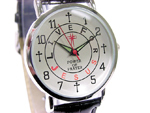 The watches come in two designs, for men and women. The Men's watch boldly displays the words, "Live For Jesus," in a circle around the face. The smaller ladies' watch says, "Serve Jesus," around the face. Both watches come with a long, black leather band and will easily fit most wrists. These high quality watches also include a lifetime warranty, which is a powerful selling point.
The wholesale price is $5.95 each, with a minimum order of 25 watches. The minimum can be a mix of men's and ladies' styles. Suggested retail is $29.95 per watch.
For more information:
Any Time Wholesale
Michael DiLeo
55 N Bailey Rd
Thorndale, PA 19372
Tel.: 610-380-4518
Fax: 215-243-7425
Website: www.AnyTimeWholesale.com
Entire contents ©2022, Sumner Communications, Inc. (203) 748-2050. All rights reserved. No part of this service may be reproduced in any form without the express written permission of Sumner Communications, Inc. except that an individual may download and/or forward articles via e-mail to a reasonable number of recipients for personal, non-commercial purposes.