INDEPENDENT RETAILER magazine is now the official news outlet for Wholesale Central visitors. Each monthly issue is packed with new product ideas, supplier profiles, retailing news, and business strategies to help you succeed.

See new articles daily online at IndependentRetailer.com.
CKB PRODUCTS introduces Maxam brand winter parkas for men and women. An order of seven units is designed and priced to provide retailers with a generous margin of profit. The men's parkas are blue with white trim, and the women's are a lighter blue with a darker fabric block and white trim.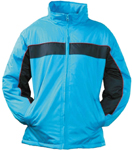 Both styles have a PVC coated polyester shell with a polyester lining. Both have two front slash pockets, zip closure, winter storm insulation and elastic cuffs. The men's seven unit buy includes one medium, two large, two extra large, one 2X large and one 3X large unit. The women's seven unit buy includes the same assortment of sizes.
The men's order of seven parkas wholesales for $69.60, which is just over $9.94 a unit, and suggested retail is $199.95, or better than $28.50 a unit. With the purchase of two or more sets of seven, the total wholesale price falls to $66.12, with four or more sets, it falls to $61.03.
The women's order of seven parkas wholesales for $58.34, which translates to about $8.33 a unit. Suggested retail return for the seven units is $199.95, or about $28.50 a unit. On orders of two sets of seven parkas, wholesale price is $55.42 on orders of four or more sets of seven, it falls to $51.16.
This company, which distributes a wide range of products, does not require a minimum order.
For more information, contact:
CKB Products
8212 Chancellor Row
Dallas, TX 75247
Toll Free: 888-252-2897
Tel.: 214-951-0488
Fax: 817-887-1921
Website: www.ckbproducts.com
Entire contents ©2021, Sumner Communications, Inc. (203) 748-2050. All rights reserved. No part of this service may be reproduced in any form without the express written permission of Sumner Communications, Inc. except that an individual may download and/or forward articles via e-mail to a reasonable number of recipients for personal, non-commercial purposes.