INDEPENDENT RETAILER magazine is now the official news outlet for Wholesale Central visitors. Each monthly issue is packed with new product ideas, supplier profiles, retailing news, and business strategies to help you succeed.

See new articles daily online at IndependentRetailer.com.
LAND SURF INC. introduces Pumgo, a scooter that takes its name from its pump and go operation. The scooter's design features two reciprocal pedals that work like a stair master, and their up and down movement drives the scooter.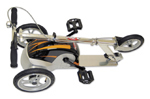 While it has the look of a scooter, its use encompasses both fun and sporty transportation, along with promoting fitness. Powering Pumgo simulates the feeling of a stair climber, skateboard, surfboard and bicycle all in one. The symmetrical exercise it provides strengthens both sides of the body, while the up and down motion represents cardiovascular exercise.
Pumgo is made of aluminum, and one size fits all. It is recommended for ages eight and up into adulthood. Pumgo is lightweight, and can be folded for easy storage or fitting into the trunk of a car. The minimum order is five units, and wholesale cost is $149. The suggested retail is $299.
For more information:
Land Surf Inc.
1720 Cumberland Point Drive SE, Ste. 19
Marietta, GA 30067
Toll Free: 888-786-4648
Website: www.pumgo.com
Entire contents ©2023, Sumner Communications, Inc. (203) 748-2050. All rights reserved. No part of this service may be reproduced in any form without the express written permission of Sumner Communications, Inc. except that an individual may download and/or forward articles via e-mail to a reasonable number of recipients for personal, non-commercial purposes.