INDEPENDENT RETAILER magazine is now the official news outlet for Wholesale Central visitors. Each monthly issue is packed with new product ideas, supplier profiles, retailing news, and business strategies to help you succeed.

See new articles daily online at IndependentRetailer.com.
PURSE PLEASER invented its signature product as a solution to the difficulty of finding things quickly in a woman's purse. While solving that problem, Purse Pleaser can also be used to organize items in a medicine cabinet, jewelry drawer or other kitchen or bathroom cabinet.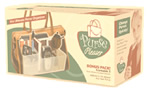 It consists of three lightweight plastic containers with compartments sized to hold common purse contents, such as wallet, cell phone, keys, lipstick, pen, mints and fingernail file. The components are small, medium and large, all comprising a single Purse Pleaser unit, so it can be accommodated in any size purse.
The largest component extends in a series of increments from just shy of eight inches to a little longer than 13 inches, and is held secure by a system of slots. It contains a pull out square drawer unit that can be held in place, extended or used separately. The third component, which can also be used separately, extends from five to eight inches.
Purse Pleaser not only makes it easy to find items quickly, but also makes it easy to change purses. Simply remove it from one handbag and put it in another, with all items intact. The compartments are deep enough to keep items from falling out, even when the purse is turned on its side.
In addition, Purse Pleaser is handy for travel. It can be used in suitcases and backpacks and can also organize items in cars, trucks and at workbenches. The minimum order is 12 units, which come with a displayer that shows how Purse Pleaser works. The wholesale cost is $12.50 a unit, and suggested retail price is $24.95.
For more information, contact:
Purse Pleaser
6196 Lake Gray Blvd. Ste. 108
Jacksonville, FL 32244
Toll free: 800-440-8571
Fax: 904-387-2109
Website: www.pursepleaser.com
Entire contents ©2023, Sumner Communications, Inc. (203) 748-2050. All rights reserved. No part of this service may be reproduced in any form without the express written permission of Sumner Communications, Inc. except that an individual may download and/or forward articles via e-mail to a reasonable number of recipients for personal, non-commercial purposes.