INDEPENDENT RETAILER magazine is now the official news outlet for Wholesale Central visitors. Each monthly issue is packed with new product ideas, supplier profiles, retailing news, and business strategies to help you succeed.

See new articles daily online at IndependentRetailer.com.
Barry Herrington retired back in 1999 after three decades in the manufacturing and wholesaling industry, where he was a highly successful designer of underwater spa lighting systems and open heart surgical equipment. He and his wife, Tina Herrington, moved from the state of Washington down to Las Vegas to enjoy "The easy life."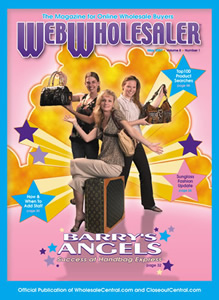 That was until Tina bought a handbag from a web retailer, which was an experience that ended up sparking both of their entrepreneurial spirits beneath the Nevada sun. They soon said goodbye to the retired lifestyle, rolled up their sleeves and launched HandbagExpress.com.
"Tina had made her living as a paralegal and wanted to try being a businesswoman," Mr. Herrington explained. "Plus, I was 50 at the time, and I found out that I was too young to quit working. So when she mentioned the handbag business, it was like an epiphany because it was something we could do together. All I could say was, 'Let's do it.'"
Tina became CEO and oversaw customer service, fulfillment and operations, while Barry, as Sales Manager, handled marketing and product development. The couple put up a website, see www.handbagexpress.com, and began ordering handbags from around the world, while storing them in the garage of their gated community home. Due to promotions via organic search marketing and magazine advertising, the business took off, and they soon had to rent a storage unit to hold additional inventory.
"We have grown our sales through ads with Web Wholesaler Magazine," he explained. "But it takes a little bit of everything in marketing to get where we are. Our sales, in many of the years, have quadrupled."
It did not take long before neighbors were complaining about the UPS driver constantly coming and going through their quiet area. The Herringtons then moved the headquarters of HandbagExpress.com and parent company BWI Worldwide Inc. to their first warehouse fulfillment center of 2,400 square feet.
Mr. Herrington began driving to Los Angeles and flying to Dallas, Houston, Atlanta, New York, Boston, Seattle and over to Asia, in order to find the best products. While most of the buying could have been done online or over the phone, it was important to the Herringtons that they meet the people they do business with in person before their first transaction occurred. He also wanted to individually look over product before spending a BWI dime on it.
"Early on, we placed a couple of orders that turned out to be real crap, and that was not going to happen again," Herrington said. "We only offer the highest quality items to our retail partners, and we only work with suppliers that we trust. Last year, I went to China just to make sure about a certain group of products. It is a promise to our customers that we take extremely seriously. The merchandise is inspected piece by piece. I take care of making sure the items are top notch, while Tina ensures that our service is nothing short of first rate."
Fast forward to last fall, when HandbagExpress.com moved again; this time to a facility in suburban Henderson, NV, around five times the size of the prior one. And average orders have climbed north of $200. So outside of being highly selective merchandisers, what are some of the other secrets to the Herringtons' success? Not surprisingly, having a skillfully put together website is at the crux of the company's growth. What is amazing is that the Herringtons' got it right the very first time.
Sensational Performance
"We have never redesigned our website. The one you see right now is the same one we put up five years ago," stated the site designer and do it yourself type, Herrington. "I wanted a sound design so I could focus on other tasks. So far, so good."
Without question, several impressive things jump out to the viewers who visit www.handbagexpress.com. There is the left hand navigation system with its large font links, making it easy to find key categories, such as Handbags 2007, Fashion Wallets, Backpacks, Sunglasses, New Arrivals and Clearance.
Meanwhile, the same left hand navigation bar appears inside every category, so the user can switch product areas fluidly. For instance, if the viewers click on Handbags 2007, they can exit directly for Fashion Wallets, without going back to the homepage first.
"We decided that the best way to cut to the chase was to give people exactly what they were looking for," Herrington said. "People are working hard, whether they are online or offline. They need to be able to find their products quickly. My goal in the design was to minimize the number of 'purchasing clicks' to three. One, two, three. A, B, C."
It is also worth noting that the visitors can go back to the homepage at any point by easily clicking a link on the top navigation bar. On the homepage, they will see the Shop by Expression channel, which borders the right hand side of the above-the-fold layout. In the channel, five of the best selling products are displayed with stylish photography, as well as pricing and other information. The middle of the design showcases the firm's four hottest items. More specific recent examples of big sellers include: the Denim Patchwork Button Accented Hobo ($13 per unit), the Paisley Front Pocket Tote Handbag ($14) and the Signature Butterfly Petite Hand Tote ($14).
"We will be featuring a lot of summer bags in mid spring; a lot of summer patchwork bags that people should look out for," Herrington stated. "Other hot items will be clutch bags, clear or transparent bags and lightweight handbags." Each product is accompanied by buttons marked "details" and "add to the cart" that take viewers to the ordering page, where delightful pictures of selected handbags appear at shutter speed. The customers then choose between colors, sizes and quantities.
"I handle our photography," Herrington explained. "The only way to showcase the fact that your products are top notch on the Internet is to present the best images of them. That is my goal every time we get something new in. Communication is limited online; so, you have to always be mindful of the opportunities you do get to make a positive impression on your viewers."
Personal Touch
One of the more interesting things viewers find at www.handbagexpress.com is the advertised offer to learn more about the company. Just underneath the Shop by Expression channel appears a section titled Our New Facility. After one click, a radiant photo of the recently opened building jumps out.
Viewers can go on to read about the recent move, the company's expansion and how the facility is designed for top customer service. Plus, there is an open ended invitation to people to visit if they are in the area. The company's physical address, phone number, fax and email are listed.
"This is our way of showing first time site visitors that we are legit," Herrington said. "There are a lot of people out there who have been burned, and we understand that. We have had people call us up and ask point blank, 'Are you guys for real?' I think this section of the website automatically alleviates the concerns of any serious buyers that we are a real business with a real facility that is run by real people. I think that is important."
Herrington is always looking out for his customers. Last year, UPS took away the free tracking tool from many players in the wholesale community. However, Herrington would not stand for it because he knew how important that capability was to his retail partners. The tool had a permanent spot on his homepage since the site was launched, and customers needed it to time merchandising efforts like store specials. "UPS did not want to do it anymore, so they killed it," Herrington explained. "So we went to them and almost forced them to put it back. Our customers love it. People do not want to have to call in and wait on the phone to find out where there packages are. They can do it on their own at one o'clock in the morning. They love it, and we love it."
In another instance of his company enabling online self service, a search by product number feature is constant throughout the site in the top left hand corner. It gives repeat customers the ability to quickly find products they have seen flying off their store shelves. As an example, if a viewer punches in, "PAR-390," they will find the firm's Large Python Embossed Ellipse handbags.
Email And Customer Service
Like many wholesalers, Herrington wisely uses email as an order confirmation system. Customers also have the option at checkout to sign up for newsletters about incoming products and special offers. The HandbagExpress.com database has grown to around 27,500 wholesale clients, who receive the email twice a week.
"People are increasingly receptive to email, and it is only going to get better, response wise, as more businesses start regularly using the medium," Herrington said. "We email very responsibly. Of course, that means we do not participate in spam. Customer service and trust mean everything to us. We want our business to be a refuge for customers from the uncertainties of the marketplace. Tina and I will take care of them and help them grow. That is what we are here to do."
Indeed, doing business with this Vegas couple is hardly a gamble at all. It is practically in the bag.
For more information, contact:
Handbag Express
115 Corporate Park Dr.
Henderson, NV 89074
Tel.: 800-616-1044
Or 702-616-0997
Fax: 702-616-0998
Website: www.handbagexpress.com
Entire contents ©2023, Sumner Communications, Inc. (203) 748-2050. All rights reserved. No part of this service may be reproduced in any form without the express written permission of Sumner Communications, Inc. except that an individual may download and/or forward articles via e-mail to a reasonable number of recipients for personal, non-commercial purposes.