INDEPENDENT RETAILER magazine is now the official news outlet for Wholesale Central visitors. Each monthly issue is packed with new product ideas, supplier profiles, retailing news, and business strategies to help you succeed.

See new articles daily online at IndependentRetailer.com.
Many wholesale companies offer dropshipping and maintain a claim that they have millions of products. In reality, such a high and vague number of SKUs may really mean that the company is not a true wholesaler.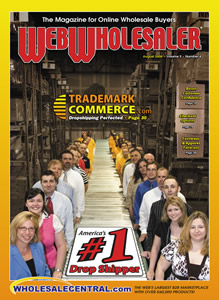 Thankfully, there is TrademarkCommerce.com, who wholesales and dropships the right way. The Lorain, OH, company houses every one of the products listed on the company's website, www.TrademarkCommerce.com.
"We are an online wholesaler in the truest sense," said Jim Sustar, President of nine-year-old TrademarkCommerce.com, part of Trademark Global, Inc. "Our competitors will say they have a million products. Really though, they have four guys in an office and that is all. They just solicit relationships with various factories and warehouses around the country or globe for their products. In reality, they are just another middleman charging fees and driving up costs for the buyer."
TrademarkCommerce.com's edge over the these "middlemen" only just begins with price points. In particular, Sustar and his team are able to leverage two huge advantages when speaking with prospective buyers. First, since the products are coming off their own shelves, Trademark can assure customers that the items will not be damaged and are actually what they see on the website. The company's fulfillment team inspects every order for condition and accuracy before it leaves the building.
Secondly, TrademarkCommerce.com can promise to ship the items right away and make good on it. The company has total control over operations and does not depend on another warehouse in a different time zone to do the job. Orders received by 2 P.M. EDT are guaranteed to be shipped that day.
"We don't leave at the end of the day until all the orders are out the door," Sustar said. "By having our fulfillment center in Ohio, we are strategically located in the central U.S. for great shipping rates to the rest of the States, as well as Canada. We think our geographical location has as much to do with our success as our competitive prices. It is worth mentioning that if our customers want to do their own shipping, we are happy to ship bulk cases and pallets to them."
No Middleman Means More Sales
Now consider that the company recently began calling home to a four million-square-foot facility. While Trademark Global currently utilizes about 150,000 square feet for its numerous products, it chose the location under the confidence that they will continue to rapidly grow its customer base and add more SKUs. After all, they are growing annually by more than 20 percent.
As for why so many companies doing business with TrademarkCommerce.com, Sustar explains, "There are several different things we hear. The first one is, 'We made money.' But also, we know it's because we really help our customers. Sometimes, they want information on how to sell the product. We can offer a lot of insight because we work with people from across the country. We are able to pass along valuable information because we know which products are performing best. Also, we quickly stop offering products that are not selling for retailers. Our customers trust us."
The company has also had success in doing acutely targeted marketing, racking up outstanding ROI numbers. To get the word out about their website, they have leaned on attending trade shows, placing ads in respected publications and strong word-of-mouth endorsement.
"Those are the three main cogs in our machine," Sustar said. "When it comes to trade shows, we have touched on every industry for which we have a product line. Additionally, we use great print sources like Web Wholesaler Magazine to successfully get the word out and we benefit from a lot of grass roots activity where customers tell others about our service."
Once prospects hear about TrademarkCommerce.com many retailers and buyers try the program and stick with it because there is no middleman. It makes sense - there is no reason to add cost to your purchases or hike your price points. "For instance, we are selling a hammer for $3 so the retailer can sell it for $10. Our competitors are throwing extra dollars onto their offer in the form of dropship fees and driving up the cost," Sustar said. "That, in turn, hurts the retailers' price points and sales Since we own the product, our profit margin is already built in so dropship fees are unnecessary."
Designed for Buyers
One place where Sustar and his team do not differ much from other successful brands is their style of customer service. They personally answer phone calls all day long to ensure that customers have their needs met. They quickly reply to emails, too, while making sure that the order fulfillment center is running at top speed.
"Seventy to 80 percent of our customers are now using the website," Sustar said, "but the rest still call us up the traditional way. A lot of people consider the Internet to be a 'new' venue of selling, but the same standards are there. You still have to go out and meet people and talk to them. It is still about quality products and the quality of everything you do. You have to be versatile for your customers."
Trademark Global began operations in 1999 and the Sustar brothers have combined to make a successful executive duo. Jim works the trade shows, where he is the face of the company on the outside, while Dan oversees all operations on site making him the face of the company internally.
The Sustars and their staff are continuously making www.TrademarkCommerce.com a more effective customer service engine. On the site, one can see limited time special offers and various product categories on the left-hand navigation bar, as well as monthly Top 10 featured products in the middle of the homepage and above the fold.
"People who jump on those Top 10 products right away are going to make a lot of money," said Dan, CEO of Trademark Global, Inc. "Overall, we make it easy for people to find the items they need. For instance, people who want Home & Garden products locate them quickly without sifting through all the other items."
Yet another effective aspect to their site design strategy is the posting of recent email notifications on the homepage. All viewers have to do is click on them to see what items were recently available (or are still) and promoted to the email list. They also employ a two-week report that allows buyers to catch up on all of the items that have been announced at www.TrademarkCommerce.com. "If you go on vacation for two weeks, you can come back and download the report to see all of the new products," Dan explained.
Products Galore
An even more impressive fact separates TrademarkCommerce.com from the competition: It self-manufactures an array of fantastic products for different niches. The company is the customers' factory and fulfillment center all in one location.
Jim Sustar revealed which categories have been the best performers in 2008, which include Art, As Seen On TV, Hardware, Houseware, Rec Room and Toys. Viewers who sign up for the company's email newsletter can often hear first about the hottest items. "We have between 30 and 50 new products available per week," Sustar said, "So we send out a weekly email announcing them. We always have a lot of proven moneymakers."
Sustar said he would be remiss if he did not mention how important Paul Hervey, Operations Manager for TrademarkCommerce.com, was to the firm's excellent product selection. Hervey handles all purchasing and imports operations, bolstering an already veteran and intuitive team.
"Paul's an experienced executive," Sustar said. "We are incredibly lucky to have him."
Businesses Grow
If you are interested in taking advantage of a savvy online wholesaler and dropshipper that is accountable for its products from start to finish, it is not hard to get started. Sustar and his team are ready to help you get buying and selling right away. They are willing to assist seasoned retailers that want to venture into new product categories, and entrepreneurs who are new to the scene and wary of depending too much on eBay. Sustar and his team offer a personal touch to everything they do at TrademarkCommerce.com. It is always about the customer. Even the company's ongoing web design tweaks are based on what they learn about the site from patrons over the phone or via email.
"We listen to the customer," Sustar said. "The questions that our 10-person customer service staff get are often brought into meetings, and we design the site to help answer their questions so they don't have to call. We always want to improve our website and save our customers time during their busy days."
For more information, contact:
Trademark Global Inc.
5401 Baumhart Road
Lorain, OH 44053
Phone: 800-218-0104
Fax: 440-960-7208
Website: www.TrademarkCommerce.com
Entire contents ©2023, Sumner Communications, Inc. (203) 748-2050. All rights reserved. No part of this service may be reproduced in any form without the express written permission of Sumner Communications, Inc. except that an individual may download and/or forward articles via e-mail to a reasonable number of recipients for personal, non-commercial purposes.