INDEPENDENT RETAILER magazine is now the official news outlet for Wholesale Central visitors. Each monthly issue is packed with new product ideas, supplier profiles, retailing news, and business strategies to help you succeed.

See new articles daily online at IndependentRetailer.com.
Just when you thought there were no more great ideas left to be discovered on the Internet, along comes RedRoller. The Stamford, Conn., company serves as a conduit between multiple shipping carriers and its customers, without adding a cent to the shipping cost. The site, www.redroller.com, is a centralized venue for small- to medium-sized businesses (SMBs), where they simultaneously manage their shipping needs and save money.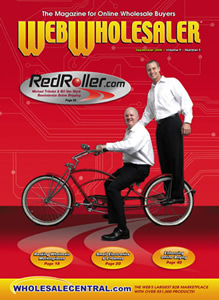 Former Vonage president, Michael Tribolet, was impressed when he learned of the company. RedRoller's business plan must have been remarkable to inspire a winner like Tribolet to jump aboard as CEO, which he did earlier this year. For the uninitiated, Tribolet helped guide Vonage from only 10,000 customers to a whopping 2.5 million in a mere four years. Under his stewardship, the telecommunications company went from $2 million in revenues to more than $650 million. He steered what was a respectably growing business and turned it into a skyrocket. After Tribolet felt he had accomplished all he could with Vonage, he made the decision to move on and seek out new challenges. Before long, he was offered several executive leadership positions with Fortune 1000 companies.
While evaluating employment options, he logged on to www.redroller.com to have a pair of Bose headphones shipped from his home to where he was visiting in San Diego. After experiencing the unique service first-hand, Tribolet could no longer stay on the sidelines. He knew he wanted to be a major player in developing the brand and growing its market presence. Says Tribolet of his decision, "It was an inflection point, that's for sure. I had not seen a service like RedRoller anywhere else on the Internet. There are over 22 million SMBs in this country who want to save money on business costs. It's an unbelievably good service."
Big Benefits for Small Biz
If you attended eBay Live early this summer in Chicago, there is a good chance you already know that RedRoller's booth was overflowing with SMB customer prospects fascinated by the shipping service. "We were on throat lozenges by day two, and it wasn't from talking amongst ourselves," Tribolet explained.
What makes the service so exceptional? For this part of the story, it is best to start at the beginning. Bill Van Wyck founded RedRoller after he discovered four years ago that there was a major hole in the shipping marketplace for SMBs. Van Wyck and his team envisioned a nationally branded search engine for shipping packages. Since then, they have been consistently developing their service and are now set for the next phase of growth with Tribolet at the helm.
In short, RedRoller offers one-stop shipping services from multiple package carriers. Visitors at www.redroller.com can select from FedEx, DHL, Overnite Express and the U.S. Postal Service, as well as a growing list of regional carriers. After spending only a few minutes registering with the site, users can start the shipping process by inputting the origination and destination points. Then, a screen will appear that prompts the user to choose from among service levels, including next day by 10 a.m., next day by 5 p.m., 2-day, 3-day, 4-day or ground shipping. The user may then choose national or regional carriers. Tribolet explains, "What many SMBs may not realize is that while some national carriers stop picking up at 6 p.m., there are regional carriers that pick up until nine in the evening. And to be clear, you will not have to go drop it off at their facility. They will come get it for you."
Furthermore, customers can conveniently select a carrier according to the best available value that meets their needs. The site allows customers to select a shipping service that balances costs with the customer's required delivery date and time, while also offering optional package pickup by the selected carrier. Additionally, it will display a map of the most convenient drop-off location. RedRoller automatically processes the transaction electronically with the selected carrier and lets the customer print authorized postage or a carrier shipping label. Customers simply have to slap the label onto the package. The service can be used via any computer connected to the Internet; and eBay sellers can manage shipments for up to 10 eBay accounts with one username. Interested SMBs and companies of all sizes can subscribe to the service for a low monthly fee of $14.95.
Tribolet asserts that a key selling point is the service's ease-of-use factor. Kelly Schroer, owner of KellyTools.com, based in Fort Worth, Texas, helps prove his case: "I use RedRoller because it is incredibly easy to use, and it helps me find the best shipping options, so I usually beat competitors' prices by a substantial amount," Schroer said. "Shipping cost is important to my customers, which means it's important to me."
Getting Started
The accolades that Ms. Schroer throws RedRoller's way are well deserved. The company's marketing and IT staffers are constantly either tweaking or updating the website (www.redroller.com) to improve its navigability. The site has gone through several major redesigns in order to ensure it makes a favorable impression from the time a person logs on until he or she has completed the shipping order. In just one example of RedRoller.com's astute layout, the site allows viewers with computer screens measuring 15 inches and larger to see everything available on the homepage above the fold. The company's dedication to perfecting its website is reiterated by Tribolet. "As CEO, I have to be the No. 1 advocate for our customers. We continually listen to them to make sure the site not only becomes increasingly user-friendly, but also more relevant to what they need and want to do."
Joining RedRoller.com and enjoying the savings it offers is quite simple. When prospective customers log onto the site, a large red button alerts them to sign up and offers a free first month for new subscribers. Then, new subscribers follow five quick steps in the setup wizard:
Step #1: Select monthly plan.
Customers are asked to select from four volume-based monthly subscription offers, which include the aforementioned $14.95 (0-150 packages per month), as well as $34.95 (151-500 packages), $59.95 (501-1,000) and $89.95 (1,000-plus).
There are also two prepaid discount offers: Customers who purchase six months up front get 10 percent off their subscription, and those that buy a full year get 15 percent off.
Step #2: Create a login.
Next, the system asks customers to create a site login and password for account access. This login will allow the company to track shipments and manage their delivery operations from end to end. Enter the correct contact info, such as first and last name, physical address, phone number and email address.
Step #3: Billing setup.
New subscribers must supply their billing information and provide a credit card with which to pay for the service.
Step #4: Input relevant carriers.
Customers who already work with DHL and FedEx can simply enter in their existing business account numbers for each carrier and continue to use their negotiated discount rates.
Step #5: Confirm subscription.
Lastly, new subscribers must check two boxes with their computer mouse to agree to terms and hit then the large red "Subscribe" button.
"The setup wizard only takes five minutes," Tribolet added. "Once you finish, you are ready to go. If customers want to call us about the setup process, we are more than happy to help. We also have live chat available for those who prefer to use it, as well as email customer service correspondence."
Shining CRM
Another inspiring chapter to the RedRoller story has manifested in the fact that the company attracted 6,000 beta customers without any promotion. Indeed, word spread fiercely among SMBs about the site's uniquely relevant service offerings and significant savings opportunities.
"If you are an online retailer or eBay seller," Tribolet explained, "you can compare options, accept whatever shipping you see fit, print the label and send it out. The technology behind our service is cutting edge and efficient."
Yet in the end, he said, the best technology in the world will not make much difference if a company does not back it with excellent customer service. Implementing, nurturing and optimizing CRM is the key to any burgeoning business, and is the core principle with which he will lead RedRoller to success.
Based on this CEO's professional record, it is safe to say that he would know how to get a company packaged and ready. After all, Tribolet has delivered big before.
For more info, contact:
RedRoller, Inc.
Soundview Plaza
1266 E. Main St., 2nd Floor
Stamford, CT 06902
Tel.: 203-286-0200
Fax: 203-286-0201
Website: www.redroller.com
Entire contents ©2022, Sumner Communications, Inc. (203) 748-2050. All rights reserved. No part of this service may be reproduced in any form without the express written permission of Sumner Communications, Inc. except that an individual may download and/or forward articles via e-mail to a reasonable number of recipients for personal, non-commercial purposes.