INDEPENDENT RETAILER magazine is now the official news outlet for Wholesale Central visitors. Each monthly issue is packed with new product ideas, supplier profiles, retailing news, and business strategies to help you succeed.

See new articles daily online at IndependentRetailer.com.
HELMETS INC. introduces an exclusive line of jeans called Jerusalem Cruisers or JC Jeans, which carry laser engraved biblical verses on the back pocket and down one leg. The rivets on these jeans have been replaced with copper crosses. Helmets Inc. has long carried religious helmets for bikers, and they have done well. In looking to extend its religious apparel selection, it bypassed shirts, which are widely available elsewhere. It found the company that supplies denim for Diesel, recognized the quality, and set out to design its own line of religion inspired jeans.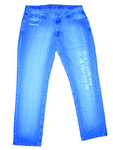 There are three versions of Jerusalem Cruisers. One has Matthew 19:26 on the pocket and, "with God, all things are possible," printed down a leg. Another has Luke 17:21 on the pocket and, "God is with you in all that you do," printed on the leg. The third has John 3:16 on the pocket and, "Ride with Jesus," on the leg.
All have a Pisces logo on the back pocket, and all three versions are available in sizes for men, women and children. In developing the design, Helmets Inc. raised the back of the jeans to avoid showing skin when the wearer bends over. These jeans were designed to complement the company's extensive line of bikers' helmets, and are suitable for anyone.
The minimum order is six units, including two pair of each version, and they can be in any size. The wholesale price is $45 a pair, and the suggested retail is at least $89. Some of the company's retailer customers are selling them for as much as $200 a pair.
For more information, contact:
Helmets Inc.
3625 First Avenue South
Birmingham, AL 35222
Toll Free: 800-827-7507
Fax: 205-322-1187
Website: www.helmetsinc.com
Entire contents ©2021, Sumner Communications, Inc. (203) 748-2050. All rights reserved. No part of this service may be reproduced in any form without the express written permission of Sumner Communications, Inc. except that an individual may download and/or forward articles via e-mail to a reasonable number of recipients for personal, non-commercial purposes.