INDEPENDENT RETAILER magazine is now the official news outlet for Wholesale Central visitors. Each monthly issue is packed with new product ideas, supplier profiles, retailing news, and business strategies to help you succeed.

See new articles daily online at IndependentRetailer.com.
In 1996, unlike his high school freshmen classmates, Kevork "Kev" Kouyoumjian was too industriously preoccupied to care whether or not he was in one of life's awkward stages. He was in the midst of starting a growing business, selling sports collectibles on eBay.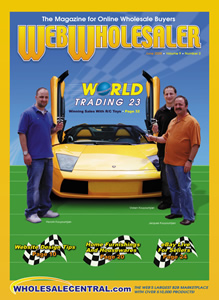 It was a business that he would continue to build for the next seven years. It became so successful that after graduating from high school, the talented young entrepreneur did not even have to argue much with his parents about only taking a couple of college classes before focusing completely on his business future. "I was making too much money," Kouyoumjian said. "I was averaging between 500 and 600 auctions every couple of days. I was selling memorabilia, sports cards and things like that. And then I got into toys, backed away from eBay and started the new business." In 2003, Kouyoumjian launched what would become known as a rising company, WorldTrading23.com, based in Sun Valley, CA. There, through blood, sweat and tears, he and his team have been fulfilling an endless stream of orders, allowing them to expand their warehouse square footage from 2,000 to 30,000 in just five years. His company's diverse line of one of a kind remote control toys have just kept zooming off the warehouse shelves to the tune of an annual revenue uptick of at least 30 percent. This kind of stunning growth has also allowed the firm to continue hiring employees, even in this year's economic climate. Word about WorldTrading23.com has been spreading like wildfire. Maybe it has to do with their exceptional breadth of hot products, or the fact that they have a minimum order of just one case, or that they are accepting applications for drop shipping. "Actually, a big part of our success is that we actually back our items," said Kouyoumjian, the company CEO. "A lot of distributors will not accept returns whatsoever. We are the exact opposite. We have a warrantee and will exchange returned items for other products we carry. But because of the quality of our products, the return rate is less than two percent, which is really good."
Ear to the Ground for Remote Control
It is worth noting that there is something truly exceptional that sets Kouyoumjian's story apart from every other dotcom-gone-big tale. In the beginning, he was not a veteran businessperson who happened to be smart enough to be an early adapter to the Worldwide Web. Nor was he a super geek undergrad at MIT or Stanford who decided to ditch the pricey piece of paper for an immediate shot at the cyberspace American Dream. Rather, he grew up and literally came of age at the very same time that the Internet did. They both entered adolescence at the same time, and then graduated to more prosperous transitions a few years later. Kouyoumjian's been an enthusiast for the products he currently sells since his elementary school days. The breadth of the latest, greatest patented toys at www.worldtrading23.com makes his affinity for them abundantly clear. The company has more than 500 items available at the website, including 300 different models. They include remote control products such as helicopters, planes, cars, gas powered cars, tanks, boats and airsofts, among other great products. Kouyoumjian said that these items have sold tremendously well, even during the economic downturn. "We've been able to do well in this atmosphere because of the great quality of our products," he explained. Since no person in this product niche has his ear to the ground quite like Kouyoumjian, he is able to find the 'best of the best' items. Here are his two hottest remote control toys for 2008:
Kouyoumjian and his team are most excited about their patented toy called The Inteli Heli. The main selling point for the item is the fact that its multiple channel technology allows it to be flown up and down and in any direction. It is the smallest remote control helicopter on the market today. The wholesale cost is approximately $20 per unit, depending on the details of the order.
"We went to the 2008 New York Toy Fair and it was voted, 'the best, small remote control helicopter,' on the market right now. Our helicopter is half the size when compared to the competitors' products and has much better capabilities due to the technology."
The second big patented product for this year at www.worldtrading23.com is The Intelli UFO. It essentially comes with the same incredibly fun capabilities of the Inteli Heli, but with the look of a UFO.
Kouyoumjian said it is the smallest product of its kind that has ever been built. The wholesale cost is approximately $10 per unit, depending on the details of the order. "It is rapidly becoming our hottest product," Kouyoumjian said. "It will be hot this fall and through the holidays. One of my key talents is identifying the hot items and jumping on them." Both The Intelli Heli and The Inteli UFO underscore Kouyoumjian's eye for what's coming next. The time he spent playing with remote control gadgets as a kid, and then learning about where they are available online (while going through high school), has become invaluable. Who could be better at scouring the endless websites, message boards and blogs that exist for remote control hobbyists? "I found The Inteli Heli in January, and had a patent for it by February," Kouyoumjian explained. "I have found dozens of hot items, and I am willing to take a risk on new hot items when I hear about them from my network of contacts."
Top Sellers
The end users for all items available at www.worldtrading23.com tend to be boys and men of a variety of ages, although there are female fans of the products as well. In all cases, the "usual suspects" are folks with a hobbyist bent. Furthermore, if a retailer sells any remote control toys at all, WorldTrading23.com's products will turn out to be right up its alley. Kouyoumjian said that The Inteli Heli, in particular, is the top remote control seller in its category. "Both The Inteli Heli and The Inteli UFO will outsell any of the other remote control products in your shop," he said. "They are just that much better functionality wise, and that much more fun for the user to engage with." He and his team have sold The Inteli Heli and The Inteli UFO to retailers in every state and every Canadian province. When it comes to their buyer demographic, their focus tends to be on small and medium sized retailers, rather than big box shops. "We carefully resolve the needs of every customer the same way, whether they are small, medium or big retailers," Kouyoumjian said. "Even though we believe the products sell themselves, we will assist retailers in any way we can. My experience with collectibles can help a lot." Meanwhile, Kouyoumjian's firm has garnered a faithful audience of web retailers. Some of those brands include HobbyTron.com, ThinkGeek.com, TrendTimes.com, HobbyPeople.com, Wowzzers.com and dozens of other sites.
Family Runs Tight Ship
On the marketing front, WorldTrading23.com mainly relies on organic search lead generation and gaining a presence at all of the big trade shows. At the same time, his staff does an excellent job of converting prospects to customers. "Our marketing team is strong at emphasizing the natural strengths of our products," Kouyoumjian said. "They understand why the innovation elements of our product line are important, and what they mean to retailers." He is quick to credit many people who have emboldened his leadership abilities. For instance, the 24 year old is fast to laud his entire family, but especially his mother, Azniv Kouyoumjian, for supporting him in those early teen years as a businessman and instilling confidence in him. During the holiday season rush, Azniv can be found in the Sun Valley warehouse, helping pick and pack orders and keeping the crew level headed when crunch time gets most heated. But that is only the beginning to how WorldTrading23.com is truly a family affair. Kev's staff also includes his father, Jacques Kouyoumjian, who is president of the company and oversees order fulfillment and human resources; his brother, Vic Kouyoumjian, VP of operations; and his fiancé, Katalina Gracia, VP of product development, who has a special talent for words, being the person who named, "The Inteli Heli." "We are essentially a family run business," he said. "I think that fact is also reflected in our style of customer service. We are very hands on and will help the customers find what they want and need." But even though he is clearly the person who built the WorldTrading23.com brand, Kouyoumjian does not stop with his kin when it comes to deflecting credit to others. For instance, philosophically, he believes that his customers are his mentors. "If it was not for our customers, we would not be here," Kouyoumjian explained. "I would like to thank our past customers for all their support. They are the reason why the company is growing rapidly. And the more I listen to them and their needs, the better off we are all going to be." For more information, contact:
WorldTrading23.com
10979 Penrose St.
Sun Valley, CA 91352
Tel.: 818-504-9907
Websites:
www.worldtrading23.com
www.worldTechToys.com
(Coming Soon)
www.palmzairplane.com
Entire contents ©2023, Sumner Communications, Inc. (203) 748-2050. All rights reserved. No part of this service may be reproduced in any form without the express written permission of Sumner Communications, Inc. except that an individual may download and/or forward articles via e-mail to a reasonable number of recipients for personal, non-commercial purposes.