INDEPENDENT RETAILER magazine is now the official news outlet for Wholesale Central visitors. Each monthly issue is packed with new product ideas, supplier profiles, retailing news, and business strategies to help you succeed.

See new articles daily online at IndependentRetailer.com.
RESERVE A SPOT IN HEAVEN has assembled travel kits that promise just that, and also offer kits to, "reserve a spot in hell." The basic heaven reservation package includes an official looking reservation card, boarding pass, ID card and, "Heaven 101," which lists the rules and regulations at the destination.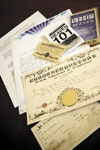 A premium upgrade, "reserve a spot in heaven," travel kit adds a VIP pass to the basic contents. The VIP pass promises access to elite areas of heaven, including the land of milk and honey.
There are also two versions of, "reserve a spot in hell." In place of the boarding pass, there is a free fall ticket to hell. The upgraded version also includes a VIP pass. It offers access to such elite areas of hell as frozen wasteland and lake of fire.
The kits are packaged in clear plastic bags that show the contents inside and also list a full description on one side. The minimum order is 50 units of the same kit. The wholesale price is $7. Suggested retail is $11.95.
For more information, contact:
Reserve A Spot In Heaven
7703 96th Avenue Southwest
Lakewood, WA 98498
Tel.: 253-302-7494
Websites: www.reserveaspotinheaven.com and www.reserveaspotinhell.com
Entire contents ©2022, Sumner Communications, Inc. (203) 748-2050. All rights reserved. No part of this service may be reproduced in any form without the express written permission of Sumner Communications, Inc. except that an individual may download and/or forward articles via e-mail to a reasonable number of recipients for personal, non-commercial purposes.