INDEPENDENT RETAILER magazine is now the official news outlet for Wholesale Central visitors. Each monthly issue is packed with new product ideas, supplier profiles, retailing news, and business strategies to help you succeed.

See new articles daily online at IndependentRetailer.com.
SKN DESIGN, which initially introduced reusable unbleached cotton bags, now adds the same size and designs in units that are made of 100 percent certified American grown cotton, which is free from chemicals and coincides with today's green standards for sustainability. Both types of bags measure 12 x 16 x six inches, are heavyweight canvas and hold up to 40 lbs.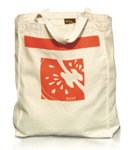 As with the traditional cotton line, the organics are offered in a choice of the same five designs: carrot, blueberry, tomato, lemon and asparagus, and each print is in a color related to its art. The bags are machine washable and fold flat, just like a paper grocery bag. For wholesale pricing inquiries or more information, contact:
SKN Design
4465 Wickham Avenue
Mattituck, NY 11952
Tel.: 917-968-5944
Fax: 917-386-2298
Website:
www.getskn.com
Entire contents ©2022, Sumner Communications, Inc. (203) 748-2050. All rights reserved. No part of this service may be reproduced in any form without the express written permission of Sumner Communications, Inc. except that an individual may download and/or forward articles via e-mail to a reasonable number of recipients for personal, non-commercial purposes.