INDEPENDENT RETAILER magazine is now the official news outlet for Wholesale Central visitors. Each monthly issue is packed with new product ideas, supplier profiles, retailing news, and business strategies to help you succeed.

See new articles daily online at IndependentRetailer.com.
ECOUSABLE INC. introduces Ech20, a 25 ounce stainless steel water bottle with a built in filtration system. It utilizes EcoUsable's proprietary ionic adsorption micro filtration system, which eliminates more than 64 contaminants.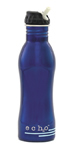 The filtration system is made in the U.S. and addresses four zones of contamination often found in water. They include the causes of unpleasant taste, biological pathogens, toxic chemicals and also dissolve solid metals. Unlike most plastic bottles, the Ech20 bottle is BPA free and does not release chemicals. It is portable and lightweight and can be used to filter tap water and water from streams, lakes, rivers and pools; everything but salt water. That makes it useful for travel to other countries, as well as for hiking, camping and boating. Ech20 also functions as a survival bottle for emergency preparedness.
This month, an 18 ounce version of Ech20 is being introduced. The units are offered in a choice of seven different colors, including metallic red and blue, stainless, purple, green, pink and, "stainless swirl." The 25 ounce unit is 10 inches tall, and the smaller version is 8.5 inches tall. Ech20 replaces up to almost 758 liters of bottled water, and is good for filtering up to 100 gallons of water, which means it will typically last for about 12 months.
The minimum order is a dozen units of the same size. The 25 ounce unit wholesales for $19.50, and the suggested retail price is $39.95. The 18 ounce unit wholesales for $17.50 and has a suggested retail of $34.95. The filter can be replaced. A replacement filter for the larger units wholesales for $12.50, and $12 for the smaller unit. The suggested retail price is $24 to $25.
For more information:
EcoUsable Inc.
811 North Catalina Drive, Ste. 3110
Redondo Beach, CA 90277
Toll Free: 877-544-0429
Tel.: 310-943-9245
Fax: 310-376-1972
Website: www.ecousable.com
Entire contents ©2023, Sumner Communications, Inc. (203) 748-2050. All rights reserved. No part of this service may be reproduced in any form without the express written permission of Sumner Communications, Inc. except that an individual may download and/or forward articles via e-mail to a reasonable number of recipients for personal, non-commercial purposes.