INDEPENDENT RETAILER magazine is now the official news outlet for Wholesale Central visitors. Each monthly issue is packed with new product ideas, supplier profiles, retailing news, and business strategies to help you succeed.

See new articles daily online at IndependentRetailer.com.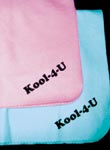 Kool-4-U Towels are made, without chemicals, from a hyper-evaporative material that retains water while feeling dry and cool to the touch. The towels provide relief from a variety of conditions, including summer heat, sports, fever, headaches, hot flashes, sunburn, inflammation and more, and offer consistent sales because of their versatility. A user simply wets the towel, squeezes out any excess water and shakes it, and it remains cool for two to four hours. When the towel starts to lose its cooling affect, the user gives it a few more shakes and it is cool again because the water inside evaporates. When shaking the towel no longer restores it to coolness, users add more water. "The water has to be cooler than the air temperature, and can be from any salt water or fresh water stream," explains Sally Tarr, who, along with her husband John, owns the company. Should the product dry out and become stiff, just wet it and it will return to its original soft texture.
The Kool-4-U Towel is durable and longer lasting than similar products on the market and, if properly cared for, will not mold or mildew, Tarr adds. Available in blue, green and pink, the towel measures about 17 inches by 25 inches. It comes in its own case, where, when kept slightly damp, it is always ready for use, and no refrigeration is required. Kool-4-U is machine and hand washable with mild liquid soap, and it can be reused hundreds of times.
Kool-4-U Towels is offering a starter pack of 25 pieces, containing the buyer's choice of colors, which wholesales for $175 and tiered pricing is based on volume. Retail generally is $15 per towel. The minimum order is 25 pieces. Kool-4-U Towels provides a cardboard display, at no additional charge, that holds 12 towels. An information sheet, which tells consumers how to use the product, is included in all orders. "It's a helpful tool," Tarr points out. "Sellers can put their own contact information on the bottom of the sheet." To learn more about the product, retailers can visit the company's consumer Website or contact the company either by phone or email.
For more information:

Kool-4-U Towels
Tel.: 772-873-9327
Email: John@Kool-4-U.com
Website: www.kool-4-u.com

Entire contents ©2023, Sumner Communications, Inc. (203) 748-2050. All rights reserved. No part of this service may be reproduced in any form without the express written permission of Sumner Communications, Inc. except that an individual may download and/or forward articles via e-mail to a reasonable number of recipients for personal, non-commercial purposes.