INDEPENDENT RETAILER magazine is now the official news outlet for Wholesale Central visitors. Each monthly issue is packed with new product ideas, supplier profiles, retailing news, and business strategies to help you succeed.

See new articles daily online at IndependentRetailer.com.
ROYAL TREND division of GREATWHOLESALEZ.COM has introduced a line of winter scarves with fashion decorations and embellishments.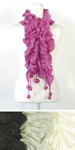 The Chandelier style is a 72 inch long scarf of acrylic knit that is ruffled at each end. It is offered in a choice of four solid colors: gray, black, white and fuchsia. Another style, Pom Pom, comes in the same color choices, is ruffled all around and has pom poms at each end.
Both of these styles wholesale for $6. Suggested retail price is $14.99 or more. There are hats and gloves to match or coordinate with these and the other new styles.
A new Rugby style scarf is woven acrylic that has a soft terry cloth like texture. It is 60 inches long and comes in a choice of six colors, each alternating with a white stripe. They are orange, gray, brown, lime green, baby blue and light pink. The Rugby has a wholesale price of $6 and a suggested retail price of $14.99.
Also new is a leopard print set that includes a hat, gloves and scarf. All are made of a soft, fine knit that has the feel of cashmere. The set wholesales for $13.50, and suggested retail price is about $30. The company requires a minimum order of $100, and it can include a variety of all hats, gloves and scarves.
For more information, contact:
Royal Trend Division
Greatwholesalez.com
4635 North Black Canyon Highway, Ste. 201
Phoenix, AZ 85015
Toll Free: 877-755-4920
Tel.: 602-218-5976
Fax: 602-218-5975
Website: www.greatwholesalez.com
Entire contents ©2022, Sumner Communications, Inc. (203) 748-2050. All rights reserved. No part of this service may be reproduced in any form without the express written permission of Sumner Communications, Inc. except that an individual may download and/or forward articles via e-mail to a reasonable number of recipients for personal, non-commercial purposes.