INDEPENDENT RETAILER magazine is now the official news outlet for Wholesale Central visitors. Each monthly issue is packed with new product ideas, supplier profiles, retailing news, and business strategies to help you succeed.

See new articles daily online at IndependentRetailer.com.
INVENTURES PRODUCTS LLC, which does business as, IT'S EXCITING LIGHTING, offers three versions of LED, battery powered wireless sconces in a variety of designs. They hang on the wall and require no cord or plug and include EZSconce, SmartSconce and AmbianceSconce.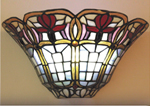 EZSconce has a manual on/off switch hidden under the shade. It comes in a variety of shade designs, including a mica shade, coated rice paper shade and frosted marbleized glass shade. All these sconces are conical shaped and are about 12 inches high and approximately five inches wide.
SmartSconce comes in four versions and features a frosted glass, or a marbleized frosted glass shade. There are conical shape, bell shape and half moon shape designs, and they change colors. The conical and bell shaped versions are 12 inches tall, and the half moon shaped version is 10 inches tall. All three have six different color settings and a sleep setting, all operated by remote control. The fourth version, SM1004, has seven different color settings and a built in dimmer that includes 10 stages of light.
The AmbianceSconce has more than 20 different designs of Tiffany inspired stain glass shades. It has a remote control on/off and sleep setting, and measures 14 inches wide, eight inches long and six inches deep. All sconces in the It's Exciting Lighting brand operate on a AA battery, which is not included and is replaceable. They also will take rechargeable batteries. All attach with a back plate that is built in and has a groove, so the sconces can be attached on a single nail or screw in the wall.
The minimum order is a case of four to six units, depending on the version. The company will break a pack so retailers can obtain an assortment of units. The wholesale cost for EZSconce is $25, and the suggested retail is $59.95. Wholesale cost for SmartSconce is $44.50, and suggested retail is $109. The AmbianceSconce's wholesale cost varies somewhat by design, but typically wholesales for about $55 and has a suggested retail cost of $139.
For more information:
Inventures Products LLC
D/ba It's Exciting Lighting
313A Regina Avenue
Rahway, NJ 07065
Toll Free: 800-381-3919
Tel.: 732-381-9881
Fax: 732-381-9781
Website: www.itsexcitinglighting.com
Entire contents ©2022, Sumner Communications, Inc. (203) 748-2050. All rights reserved. No part of this service may be reproduced in any form without the express written permission of Sumner Communications, Inc. except that an individual may download and/or forward articles via e-mail to a reasonable number of recipients for personal, non-commercial purposes.