INDEPENDENT RETAILER magazine is now the official news outlet for Wholesale Central visitors. Each monthly issue is packed with new product ideas, supplier profiles, retailing news, and business strategies to help you succeed.

See new articles daily online at IndependentRetailer.com.
JESSIEYU INC. has developed unique covers for ladies' shoes. It calls them Jessieyu and refers to them as, "the Millennium Footwear."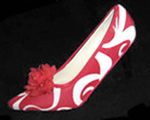 The covers are made of stretch Lycra fabric, the fabric much associated with swimwear and other athletic apparel. Jessieyu covers are offered in hundreds of different fabrics, including prints, solid colors and foil, or metallics, along with classic patterns. One size fits all ladies' shoe sizes from six to 10. Furthermore, Jessieyu accommodates snugly to virtually any shape of shoe, heel or flat, pointy toe, round or other. All are water resistant. They are especially handy for travel and also for women who want to switch from day to night, or dress up for a special occasion without investing in another pair of shoes. In addition to a full range of solid colors, the foil colors include copper, gold, silver and bronze with a shiny finish. The patterned designs include a souvenir series, which has images associated with such specific places as New York City, Pasadena, San Francisco, Los Angeles and elsewhere. There are also classic designs, such as ferns, polka dots, stripes, florals, geometrics and animal prints. The leopard print is one of the company's best sellers. Units come folded in a clear plastic envelope that shows the color and pattern inside. The minimum order is 10 dozen of assorted patterns, which allows retailers to carry a few dozen of several different designs in order to provide their customers with an interesting selection. The wholesale price is $3 per pair. The suggested retail price ranges from $5.99 to $7.99 a pair. For more information, contact:
Jessieyu Inc.
5431 Sheila Street
Commerce, CA 90040
Tel.: 323-888-8567
Fax: 323-888-5679
Website:
www.jessieyu.com
Entire contents ©2022, Sumner Communications, Inc. (203) 748-2050. All rights reserved. No part of this service may be reproduced in any form without the express written permission of Sumner Communications, Inc. except that an individual may download and/or forward articles via e-mail to a reasonable number of recipients for personal, non-commercial purposes.