INDEPENDENT RETAILER magazine is now the official news outlet for Wholesale Central visitors. Each monthly issue is packed with new product ideas, supplier profiles, retailing news, and business strategies to help you succeed.

See new articles daily online at IndependentRetailer.com.
There are times in business when you have to pounce on an opportunity. If not, you may never get the same kind of chance again. Taking advantage of the situation at hand is the essence of success. Few companies in the wholesale industry have been better than Kalan LP at embracing opportunities that suddenly arise. The latest example of this intuitive style of business came during the first week of October 2007, when CFO, Andrew Kalan, caught wind that Stravina Operating Company LLC was shuttering their business, including the Funworks souvenirs wholesale products brand. He immediately started working his old contacts with the company, in order to find out if the murmurings were true.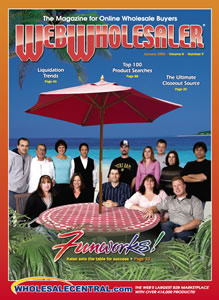 "We had been what I would call friendly competitors with Stravina," Kalan said. "When we heard that they had closed their doors, I picked up the phone and made some calls to reach out to someone who could let me know about the situation. In essence, I wanted to explore the possibility of picking up some of their product lines. It was sort of just a general phone call at the time."
The conversation turned out to be more fruitful than general. Kalan liked what he heard about Funworks being immediately for sale, and he did not hesitate. Before long, he was on an airplane to California to hammer out negotiations for an acquisition. What else would you expect from Kalan, who for years has offered excellent customer care and the best lines of keychains, shotglasses, party goods, novelties, apparel and more, all found on the web at www.kalanlp.com.
When Kalan returned to Pennsylvania, he had to prepare for the new products his firm was taking on, and he hunted for a warehouse space near the firm's existing 30,000 square foot facility. Luckily, after striking out on a couple of locations, he found an open unit with 10,000 square feet only two miles away, and Kalan was ready to become more entrenched in the souvenirs business.
"It was a real whirlwind from start to finish," Kalan explained. "The warehouse owner literally handed me a key to the building, and then the first of eight trucks from California was backing up to unload the products. We have always been a part of the tourist market because of our line of gift products and other merchandise, and were familiar with it. But we were never a vacation destinations souvenir items company. The Funworks acquisition gave us exposure to that specific market."
Memories For A Lifetime
The Funworks repertoire of hot products includes mugs, magnets, keychains, zipper pulls and personalized souvenirs. Buyers that log onto www.funworks.net can browse the brand's online catalog for all the great items.
The site will also inform visitors about selecting customized products to support their local vacation attractions. For instance, a gift shop located near the St. Louis Gateway Arch or the Grand Canyon can have Kalan LP's Funworks put one of its stock image wraps for those vacation spots onto mugs, keychains, zipper pulls, etc. It only takes a phone call or an email to set your project in motion.
"In particular, the zipper pulls are small, cute and great for kids' backpacks, keychains and belt loops," Kalan said. "They are excellent, low cost souvenir items for children. They get merchandised by themselves, or on combination racks with magnets or keychains."
Most Funworks products run about a dollar per wholesale unit, while higher end items cost as much as $3.50. Kalan said that the line of mugs entail crisp, intricate designs. His firm can decorate them with specific, attractive, predesigned image wraps for amusement parks like Six Flags or other tourist destinations. The items also come in more generic looks that allow the retailer to use his own creativity.
"They are beautiful products," Kalan explained. "For instance, we have one mug that has exotic animals on it and is popular with zoo shops. There are slots on the mug where we can personalize one side of it for the name of a person, and the other side for the name of the zoo. You can have an entire rack deal program for your account."
Meanwhile, the magnets are, on average, two inches wide and two inches tall. In addition, they can be cut into different shapes, based on the artwork. How else can they be customized or personalized? A retailer can buy a Funworks magnet of a skier going down a mountain. There is a customization space at the bottom, where the marketing images or content can be dropped in for Camelback, Aspen, Park City, or any ski resort.
"Keychains have the same sort of flexibility," Kalan said. "Let's say there is a keychain that has two dolphins jumping out of the water, and it says 'FLORIDA' across the top. At the bottom, there will be a customization spot where you personalize it with the person's name. We will sell an entire rack with 192 key rings, and each one will have a different name on it, but will have the same basic design."
"We have four artists on staff full time that can create custom work and turn it around accurately and in an expedited fashion," Kalan added. Buyers of the Funworks line of products include theme parks, zoos, museums, aquariums, a variety of vacation destination shops and wholesalers and distributors. If your company does business with any sort of tourist or vacation niche, visiting www.funworks.net will be profitable research.
Smooth Funworks Transition
www.funworks.net has only been live for a few weeks, and Kalan said the company would intelligently ease into their marketing strategies, in terms of getting the word out. "We are starting with target rich trade magazines like Web Wholesaler Magazine, because our business model is selling wholesale to retail accounts, which then sell to the public."
One immeasurably important asset that the company has going for it lies in their top notch fulfillment operations expertise. As Kalan suggested, the firm accurately gets orders ready for shipment and out the door quickly. The company is able to stake such a claim, due to his leadership, along with Jackie O'Rourke-Pope, national sales manager, and Ted Miller, who works in sourcing and other operational areas. Each has played a part in developing a system where the customer service team can fulfill both customized and generic orders quickly and efficiently.
Kalan's leadership and proven customer relationship management (CRM) methods are distinctly important in the Funworks to Kalan LP transition. Stravina in 2007 suffered numerous problems with getting orders processed and delivered appropriately, while also running out of inventory too regularly. The Kalan LP team is poised to regain the good brand name for Funworks, with its high performance system.
"Our customer service staffers and operations people have been with the company an average of 15 years," Andrew Kalan explained. "You cannot put a numerical value on that type of experience and what it means. They take care of our customers incredibly well, and that is crucial to what we have in Funworks as we move forward. We have the infrastructure and the team at Kalan to support the acquisition."
To be clear, the main difference between the products one will find at the vacation souvenirs oriented, Funworks.net, and at www.kalanlp.com, lies in the fact that the latter site offers more general fun and humorous items. More specifically, Kalan LP offers a variety of shotglasses, party goods, novelties, keychains, apparel & accessories, and stationary items that are priced in an easy to understand fashion.
For instance, keychains and shotglasses average $1.25 wholesale. The company also offers the world's largest greeting cards (16.5 by 24 inches) and pop culture oriented back to school items, such as stationary, buttons, spiral books and pens.
"Of course, we have always been in the gifts market," Kalan explained. "We have done a tremendous amount of business in resort areas like Myrtle Beach, Wisconsin Dells or Virginia Beach with our funny product lines for keychains and shotglasses."
Without question, things were humming along nicely at Kalan LP before the Funworks acquisition. But Kalan said it was good he worked those phone lines to find out what was going on with Stravina back in early October, and it was a good thing he jumped on that plane to California to strike a deal. This was the kind of opportunity where business is often won or lost. Kalan's estimation is that the Funworks acquisition will likely help the company achieve a 20 percent sales growth in 2008.
"What Funworks adds to Kalan is access to a whole host of customers to which we had not been previously selling," he explained. "We are excited about what the future of these two brands, working together, will bring."
For more info, contact:
Kalan LP
Funworks
97 S. Union Ave
Lansdowne, PA 19050
Tel.: 610-623-1900
Toll Free: 800-345-8138
Sales Dept Fax: 610-623-0366
Business Office Fax: 610-623-9437
Website: www.funworks.netand www.kalanlp.com
Entire contents ©2023, Sumner Communications, Inc. (203) 748-2050. All rights reserved. No part of this service may be reproduced in any form without the express written permission of Sumner Communications, Inc. except that an individual may download and/or forward articles via e-mail to a reasonable number of recipients for personal, non-commercial purposes.