INDEPENDENT RETAILER magazine is now the official news outlet for Wholesale Central visitors. Each monthly issue is packed with new product ideas, supplier profiles, retailing news, and business strategies to help you succeed.

See new articles daily online at IndependentRetailer.com.
2 MONKEY TRADING LLC introduces Skate Buds, strap on heel skates that easily strap to most sport shoes, providing an affordable alternative to sneaker skates. And Skate Buds are adjustable, so they can be used with successive sizes of shoes as children grow.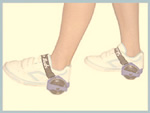 A pair comes packaged in a carrying bag that includes an allen wrench adjusting tool. Each Skate Bud has two large wheels that roll more freely than a single wheel on pavement. The inline skate wheels are of ABEC-5 bearings with polyurethane wheels, and have a heavy duty frame and elastic straps that have crimpled metal ends to prevent fraying.
Metal components are chrome plated to resist abrasion, and key bolts are double secured with an internal adhesive. Lighted and various colored non lighted wheels, hardware and replacement straps are available, along with colored straps. Displays and signage using holographic material for added impulse appeal are also available, with a motorized display that demonstrates the lighted wheel version. Other promotional materials include hand out flyers.
On a minimum order of 10 cases, each containing 20 units, the wholesale price is $6 per pair. On smaller orders, the wholesale price is $9 a pair. The minimum order is a single case of 20 units. Suggested retail price ranges from $24.99 a pair to as much as $39.99.
For more information, contact:
2 Monkey Trading LLC
1844 Maple Leaf Drive
Windermere, FL 34786
Tel.: 407-557-2070
Fax: 407-296-6888
Website: www.skatebuds.com
Entire contents ©2021, Sumner Communications, Inc. (203) 748-2050. All rights reserved. No part of this service may be reproduced in any form without the express written permission of Sumner Communications, Inc. except that an individual may download and/or forward articles via e-mail to a reasonable number of recipients for personal, non-commercial purposes.