INDEPENDENT RETAILER magazine is now the official news outlet for Wholesale Central visitors. Each monthly issue is packed with new product ideas, supplier profiles, retailing news, and business strategies to help you succeed.

See new articles daily online at IndependentRetailer.com.
JC CRAFTS & SUPPLY CO., the manufacturer and distributor of Nose Desserts fragrance products, has introduced a line of approximately two dozen new designs of Menacing Skulls. They are made of durable polyresin and come individually boxed.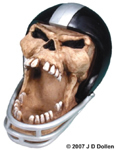 The skulls are designed for traditional U.S. tastes, and include a plain skull with a removable jaw, and representations of skulls in popular themes. Among them are: pirates, football and other sports players, hunters, firemen, poker dealers, rebels, and jokers. The sizes range from about four to six inches high. The skulls have hand painted details. They can be used for storing items, holding coins, as cookie or candy jars, or ash trays.
The minimum order requirement for a first time buyer is $50, and there is no minimum for returning buyers. Wholesale prices begin at $6.50 a unit and increase slightly, depending on the design. The suggested retail price for the $6.50 unit is $12.99. For more information on Menacing Skulls and the company's full line of incense, incense burners and related products, contact:
JC Crafts & Supply Co.
416 South Clare Avenue
Harrison, MI 48625
Toll Free: 800-477-7004
Tel.: 989-539-9026
Fax: 989-539-3003
Website: www.NoseDesserts.com
Entire contents ©2022, Sumner Communications, Inc. (203) 748-2050. All rights reserved. No part of this service may be reproduced in any form without the express written permission of Sumner Communications, Inc. except that an individual may download and/or forward articles via e-mail to a reasonable number of recipients for personal, non-commercial purposes.