INDEPENDENT RETAILER magazine is now the official news outlet for Wholesale Central visitors. Each monthly issue is packed with new product ideas, supplier profiles, retailing news, and business strategies to help you succeed.

See new articles daily online at IndependentRetailer.com.
SMOKE ANYWHERE introduces two forms of an electric cigarette. Both operate on the same electronic chip system that consists of a combination of an electronic chip, a rechargeable battery, an atomizer and a cartridge. The only difference between the two is the fashion and form. Titan is a long cigarette form, about the length of a ball point pen, that harkens back to Hollywood glamour, with a filter mouthpiece. The Quantum has a smaller cartridge and has the traditional form and style of a regular 100s cigarette.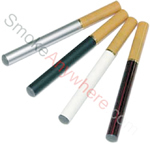 The electronic chip has a coil that is activated when air passes over it. It then communicates with the battery, and the coil heats up a small amount of liquid in the cartridge to release a vapor that simulates smoke. The liquid formula in the cartridge combines nicotine, water, polypropylene glycol and flavoring. The ingredients come in a range of nicotine strengths from high to zero, so the cigarettes can be used as a step down system to stop smoking. There are seven flavor choices: regular tobacco, menthol, apple, vanilla, strawberry, chocolate and double mint.
Both Titan and Quantum are fitted with two LED lights at the tip. One is red to replicate a lighted cigarette; the other is blue to use in public places where smoking is prohibited and the blue light wards off any misunderstandings. Both the Titan and Quantum forms are sold as starter kits. The Titan contains a power chord, charger, two batteries, one atomizer and four sample cartridges. It comes in a choice of white, black or burgundy. The minimum order is 20 units, and wholesale cost is $36. Suggested retail is $74.99.
The Quantum kit includes all of the Titan kit contents, plus an additional cartridge, for a total of five. It is offered in white, black, burgundy and silver. The wholesale cost is $38, and the suggested retail price is $79.99.
For more information, contact:
SmokeAnywhere
48 Kevin Drive
Flanders, NJ 07836
Toll Free: 877-288-9120
Tel.: 973-252-4326
Fax: 973-252-4327
Website: www.smokeanywhere.com
Entire contents ©2023, Sumner Communications, Inc. (203) 748-2050. All rights reserved. No part of this service may be reproduced in any form without the express written permission of Sumner Communications, Inc. except that an individual may download and/or forward articles via e-mail to a reasonable number of recipients for personal, non-commercial purposes.