INDEPENDENT RETAILER magazine is now the official news outlet for Wholesale Central visitors. Each monthly issue is packed with new product ideas, supplier profiles, retailing news, and business strategies to help you succeed.

See new articles daily online at IndependentRetailer.com.
SNOWGLOBE CHRISTMAS introduces, A Snowglobe Christmas DVD, designed to add a comforting ambiance to the season as background, and as entertainment during parties and other gatherings. It features images of 30 Austrian snow globes, combined with 25 musical selections.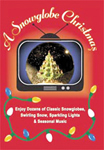 The DVD lasts for 40 minutes and operates on a repeatable loop. Snow in Austrian snow globes falls for about three minutes, making these particularly soothing. All have Christmas themes, and among them are classic European Santas and fatter, jollier ones from America, reindeer, Christmas trees, penguins, polar bears, angels, cakes, religious images of Joseph and Mary, and even a replica of a snow globe that appeared in the movie, Citizen Kane. The music is described as upbeat and jolly, and it includes approximately 16 songs, along with calypso, organ music, country guitar, jazz and other selections. Ron Ranson, the company's director of creation, has a background in theatrical lighting, which insures that the images are shown in their best light, shape and form. While the Snowglobe Christmas DVD adds to any home's seasonal décor, it also makes a great gift. A one minute sample is aired on the company's website. The minimum order is 10 units. The wholesale price is $9.98. Suggested retail is $19.95. For more information, contact:
Snowglobe Christmas
174 Andrew Avenue
Leucadia, CA 92024
Toll Free: 888-753-5238
Tel.: 760-753-7971
Fax: 760-632-6859
Website:
www.snowglobechristmas.com
Entire contents ©2022, Sumner Communications, Inc. (203) 748-2050. All rights reserved. No part of this service may be reproduced in any form without the express written permission of Sumner Communications, Inc. except that an individual may download and/or forward articles via e-mail to a reasonable number of recipients for personal, non-commercial purposes.