INDEPENDENT RETAILER magazine is now the official news outlet for Wholesale Central visitors. Each monthly issue is packed with new product ideas, supplier profiles, retailing news, and business strategies to help you succeed.

See new articles daily online at IndependentRetailer.com.
K&C HOSIERY carries a wide selection of thermal long and short sleeve T-shirts, boxers, boxer briefs, athletic cut shirts and briefs in addition to socks for men, women and children. The selection includes its own K&C brand and others, including closeouts on jeans and seasonal apparel.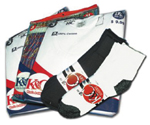 Among the first quality socks are ones with 10 different heel and toe colors and solid colors. All are cotton based. Among the spandex socks for women are more than 50 different patterns, including hearts, flowers, butterflies and other motifs.
The T-shirts are stocked in black, white, and colors are available on order. The boxers are offered in several plaid patterns.
Socks wholesale for as little as $4.25 a dozen, which includes four packs containing three pairs each. The three packs retail for $8.99, retailers can reduce the price and still reap a healthy profit margin. They can also split up the three packs.
The boxers wholesale for as little as $9 a dozen including four packs, each containing three units. Suggested retail price is $9.99 a three pack.
For more information, contact:
K&C Hosiery
21 Wolf Street
Philadelphia, PA 19148
Tel.: 215-755-8587
Fax: 215-755-8591
Website: www.kchosiery.com
Entire contents ©2021, Sumner Communications, Inc. (203) 748-2050. All rights reserved. No part of this service may be reproduced in any form without the express written permission of Sumner Communications, Inc. except that an individual may download and/or forward articles via e-mail to a reasonable number of recipients for personal, non-commercial purposes.