INDEPENDENT RETAILER magazine is now the official news outlet for Wholesale Central visitors. Each monthly issue is packed with new product ideas, supplier profiles, retailing news, and business strategies to help you succeed.

See new articles daily online at IndependentRetailer.com.
WORLD UNIQUE IMPORTS INC. has introduced iron decorative sports silhouettes that can be hung indoors or out. They are made of steel that is 1/2 inch wide and 1/4 inch thick and fashioned into outlines of athletes in action.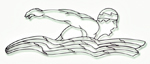 There are more than 30 different designs. There are, for example, two different male basketball styles, one shooting a basket and another dribbling, plus a female basketball player shooting a basket. There are designs depicting a hunter, cowboy, fisherman, football player, baseball player and all other important athletic pursuits.
They range in size from about 36 to 44 inches high and 11 to 22 inches wide, depending on the design. All are black with a semi glossy finish. Hung on a wall, they create a three dimensional effect, so they can be placed on any background color, including one of a favorite team, for example. They can also be painted.
The product is exclusive to World Unique Imports, which also has developed six designs of smaller units that are approximately six inches in diameter. These include the outline of a basketball, football, soccer ball, football helmet, volleyball and a baseball glove holding a ball.
The larger, athlete sports image units wholesale for $18.95, and the suggested retail price ranges from $42.99 to $44.99. Five of the smaller units wholesale for $6.50, and the baseball glove unit, which is more intricate, wholesales for $7. These carry a suggested retail price of about $16.
For more information, contact:
World Unique Imports Inc.
13321 West 68th Terrace
Shawnee, KS 66216
Toll Free: 888-866-8164
Tel.: 913-238-8800
Fax: 913-825-2555
Websites: www.wholesalecentral.com/wui and www.worlduniqueimports.com
Entire contents ©2023, Sumner Communications, Inc. (203) 748-2050. All rights reserved. No part of this service may be reproduced in any form without the express written permission of Sumner Communications, Inc. except that an individual may download and/or forward articles via e-mail to a reasonable number of recipients for personal, non-commercial purposes.