INDEPENDENT RETAILER magazine is now the official news outlet for Wholesale Central visitors. Each monthly issue is packed with new product ideas, supplier profiles, retailing news, and business strategies to help you succeed.

See new articles daily online at IndependentRetailer.com.
WOBBLE LIGHT LLC introduces several versions of WobbleLight, a work light designed to right itself if it is bumped or knocked over. It is ideal for warehouse areas and retail back rooms. It has a durable polycarbonate dome to protect the bulb, an internal venting system and a counter weight design that accounts for its bounce back capability.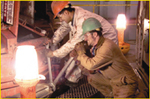 WobbleLight Jr. stands 27 inches tall. It has a 20 foot range and comes in different bulb capacities. Another WobbleLight is 36 inches high. Units include the bulb. Several WobbleLights can be connected to light a hallway or large warehouse.
Prices range from approximately $60 for a smaller unit and range to more than $100.
For more information, contact:
Wobble Light LLC
3721 North Ventura Road, Ste. 180
Arlington Heights, IL 60004
Tel.: 847-577-3720
Website: www.wobblelight.com
Entire contents ©2021, Sumner Communications, Inc. (203) 748-2050. All rights reserved. No part of this service may be reproduced in any form without the express written permission of Sumner Communications, Inc. except that an individual may download and/or forward articles via e-mail to a reasonable number of recipients for personal, non-commercial purposes.