INDEPENDENT RETAILER magazine is now the official news outlet for Wholesale Central visitors. Each monthly issue is packed with new product ideas, supplier profiles, retailing news, and business strategies to help you succeed.

See new articles daily online at IndependentRetailer.com.
ALIZ INTERNATIONAL, long time supplier of I Love Lucy licensed bags, has signed a license agreement for Lucille Ball's 50th anniversary celebration in 2010. The designs feature the glamorous side of Lucille Ball, and the Aliz products will be supported by much publicity and by promotions being rolled out by CBS and others.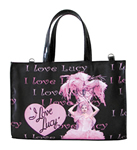 There are eight different styles of satin handbags, ranging from about 10 to 15 inches wide. The wholesale prices begin at $12 and reach to $18 for the largest units. The suggested retail prices range from $29.99 to $39.99.
There is one wallet style, offered with a choice of several different Lucille Ball photos. The wholesale cost is $8, and the suggested retail is $19.99.
A cosmetic case is offered in a choice of two different prints. It wholesales for $12, and the suggested retail is $25.99. A lightweight satin travel tote in the series has a shoulder strap and is suitable for a weekend getaway. It wholesales for $18, and the suggested retail is $49.99.
For a finishing touch, there are two styles of luggage tags, both made of durable, eco friendly cardboard. They make luggage easy to spot and are also in keeping with Aliz International's, "go green," initiatives. The wholesale cost is $2.50, and the suggested retail is $5.99.
There is no minimum order requirement, but there is a $10 handling fee for orders under $200.
For more information, contact:
Aliz International
11136 Satellite Boulevard
Orlando, FL 32837
Toll Free: 888-289-2549
Tel.: 407-438-8816
Fax: 407-438-0122
Website: www.alizbags.com
Entire contents ©2023, Sumner Communications, Inc. (203) 748-2050. All rights reserved. No part of this service may be reproduced in any form without the express written permission of Sumner Communications, Inc. except that an individual may download and/or forward articles via e-mail to a reasonable number of recipients for personal, non-commercial purposes.