INDEPENDENT RETAILER magazine is now the official news outlet for Wholesale Central visitors. Each monthly issue is packed with new product ideas, supplier profiles, retailing news, and business strategies to help you succeed.

See new articles daily online at IndependentRetailer.com.
UB2B INC. offers, "Storm Sentinel, the Case Just in Case." It contains everything needed to survive blackouts, hurricanes, vehicle breakdowns and other emergency situations when power is not available. It provides equal protection and convenience while camping, boating, hunting or doing other activities in remote or isolated places.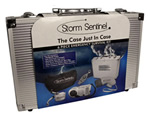 It contains an AM/FM short wave radio, flashlight, cell phone charger, compass, whistle, magnifying glass, and weatherproof carry on bag in an aluminum storage case. All of the items in Storm Sentinel can operate manually without batteries, an electrical connection or any source of energy. Each can be operated manually and independently, powered by just a few hand cranks.
Independent tests have shown that one minute of recharging the radio by its built in hand crank will provide up to 30 minutes of playing time. The radio can also be operated with two AA batteries or an AC adaptor, which are not included in the kit, but can be added.
A hand trigger generator powers the LED environmental flashlight. The light can be used for up to 15,000 hours, and its battery is designed to be recharged up to 600,000 times.
Based on independent tests, the cell phone charger provides approximately six minutes of talk time and 30 minutes on standby for two minutes of charging. This makes it possible to charge and talk at the same time. Since charging input is greater than the power expended by the cell phone, the user is never without a charged unit.
The one piece whistle also includes a compass, magnifying glass and thermometer. The fabric bag makes it easy to carry into the field, while the aluminum case makes it easy to store at home or in a boat or vehicle.
The wholesale price is $39 a unit. The suggested retail price ranges from $69 to $89.
For more information, contact:

UB2B Inc.
463 Barell Avenue
Carlstadt, NJ 07072
Toll free: 866-218-2468
Tel.: 201-319-9700
Fax: 201-319-1771
Website: www.ultimateb2b.com
Entire contents ©2023, Sumner Communications, Inc. (203) 748-2050. All rights reserved. No part of this service may be reproduced in any form without the express written permission of Sumner Communications, Inc. except that an individual may download and/or forward articles via e-mail to a reasonable number of recipients for personal, non-commercial purposes.