INDEPENDENT RETAILER magazine is now the official news outlet for Wholesale Central visitors. Each monthly issue is packed with new product ideas, supplier profiles, retailing news, and business strategies to help you succeed.

See new articles daily online at IndependentRetailer.com.
DAKOTA VALLEY PRODUCTS INC. introduces Sumseeds, which are in the shell sunflower seeds that are infused with energy producing ingredients during the roasting stage. The hull is on the seed, and the ingredients include caffeine, taurine, ginseng and lysinie, all of which bolster energy and are the same compounds used in energy drinks.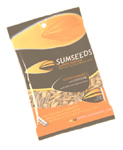 Sumseeds are packaged in 3.5 ounce bags, which constitute the same high end dosage in energy drinks. While they have the same energy producing effect, they also provide the protein, vitamin E and other benefits inherent in sunflower seeds.
The minimum order is two cases of 12 bags, for a total of 24 bags. The wholesale price is $1.50 a bag, and suggested retail is $2.25.
They come shipped in a variety of ways, including a 12 unit counter displayer with a header. Both the header and packages describe Sumseeds' benefits. They are also offered in a 12 unit clip strip that includes a header that can be fitted onto the strip. A 10 unit counter tray is also available, and the shipping case can be used as a displayer.
For more information, contact:
Dakota Valley Products Inc.
419 Third Street
Willow Lakes, SD 57278
Toll free: 888-858-2002
Tel.: 605-625-2526
Fax: 605-625-2423
Website: www.sumseeds.com
Entire contents ©2021, Sumner Communications, Inc. (203) 748-2050. All rights reserved. No part of this service may be reproduced in any form without the express written permission of Sumner Communications, Inc. except that an individual may download and/or forward articles via e-mail to a reasonable number of recipients for personal, non-commercial purposes.