INDEPENDENT RETAILER magazine is now the official news outlet for Wholesale Central visitors. Each monthly issue is packed with new product ideas, supplier profiles, retailing news, and business strategies to help you succeed.

See new articles daily online at IndependentRetailer.com.
TINT-A-SHIELD offers a product by the same name that adds sun shading and UV protection to motorcycle and other helmets and sports goggles. Tint-A-Shield is a reusable static cling plastic film that can be applied to the inside or the outside of helmets and goggles, eliminating the need for traditional sunglasses.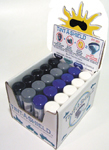 There are two sizes, one in a universal shape to fit helmets and the other shaped to fit sports goggles. Both are offered in a dark and light tint and both offer uninhibited clarity of vision. There is a quick release tab on the top of the shield, so it can be removed easily. Tint-A-Shield is packaged in a tube with a cap, so it is easy to carry and keep on hand for use as needed.
The minimum order is 20 units and can be an assortment of tints and shapes. This comes with a free countertop displayer that has a sun cutout. "Sunglasses for helmets or goggles," is written on the displayer, so consumers can see immediately the benefit of Tint-A-Shield.
The wholesale price for a first time buyer is $6. The suggested retail price is $11.95.
For more information, contact:
Tint-A-Shield
1168 South Long Lake Boulevard
Lake Orion, MI 48362
Toll Free: 866-475-7253
Fax: 320-210-4177
Website: www.tintashield.com
Entire contents ©2022, Sumner Communications, Inc. (203) 748-2050. All rights reserved. No part of this service may be reproduced in any form without the express written permission of Sumner Communications, Inc. except that an individual may download and/or forward articles via e-mail to a reasonable number of recipients for personal, non-commercial purposes.