INDEPENDENT RETAILER magazine is now the official news outlet for Wholesale Central visitors. Each monthly issue is packed with new product ideas, supplier profiles, retailing news, and business strategies to help you succeed.

See new articles daily online at IndependentRetailer.com.
CONCORD ENTERPRISES is offering closeouts by the pallet at particularly low prices for a limited time. Todd Stevens, business development manager, has assembled these offers into three different product categories, each containing first quality merchandise.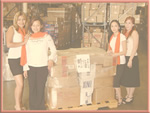 The general merchandise offer typically contains from 700 to 900 pieces of between 15 and 25 different items that would generally wholesale for 65 cents to as much as $3 each. Under this limited time offer, however, readers of Cover pay just 35 cents an item for a pallet.
A pallet of health and beauty aids consumables contains a similar number of units in a similar mix of different stock keeping units. These would typically command between 65 cents and 85 cents a unit, but are offered for 59 cents a unit under this offer. Among the products are lotions, soaps, cleaning supplies, air fresheners and much more.
The cosmetics pallet program of consumable product typically contains a total of 9,500 to 11,000 units in a mix of between 30 to 40 mixed items. The usual wholesale price would be between 77 cents and $2 a item, but for this offer the wholesale is 29 cents an item, and includes free shipping.
The company operates from an 800,000 square foot warehouse and has the capacity to fill whole truckloads of general merchandise pallets for an even better deal, according to Stevens.
For more information, contact:
Concord Enterprises
2957 East 46th Street
Los Angeles, CA 90058
Tel.: 323-588-8888
Fax: 323-588-8080
Website: www.dollaritem.com
Entire contents ©2023, Sumner Communications, Inc. (203) 748-2050. All rights reserved. No part of this service may be reproduced in any form without the express written permission of Sumner Communications, Inc. except that an individual may download and/or forward articles via e-mail to a reasonable number of recipients for personal, non-commercial purposes.