INDEPENDENT RETAILER magazine is now the official news outlet for Wholesale Central visitors. Each monthly issue is packed with new product ideas, supplier profiles, retailing news, and business strategies to help you succeed.

See new articles daily online at IndependentRetailer.com.
Jacques Stambouli was brainstorming one day in the library, while working on his master's thesis. His professor had assigned him to come up with a business plan that pertained to retail or wholesale. In the final grading, like for most papers, there would be an emphasis on innovation and common sense.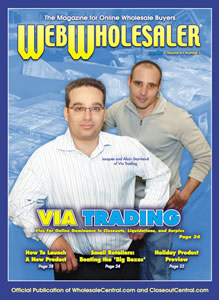 "The idea I came up with was dealing with overstock merchandise, using both online and offline tactics," Stambouli explained. "I wrote my paper about a surplus model that leveraged the Internet." The institution he was preparing to earn his post graduate degree from was the Harvard Business School.
Stambouli received his master's in June of 2002, but he was not about to brush off the surplus idea. By October of the same year, he launched Via Trading Corp. with his brother, Alain, who is president of the firm. "When we started out, we were going to both retail and wholesale surplus products," said Jacques Stambouli, CEO of the company in Vernon, CA, an industrial area just outside of Los Angeles. "On the retail side, we soon discovered the challenges of being able to find enough good products to sell. We found a lack of regular, reliable, good wholesale suppliers out there, so we decided to focus exclusively on that area, abandoning retail after two or three months. We gradually built the wholesale business up, establishing relationships with major retailers across the country."
There is no question that the Stamboulis' shift in strategy paid off. They generated $2 million in sales during their first 12 months and certainly did not stop there. During 2006, they reported $10 million in sales, and they are hoping to reach $15 million this year. On the logistics end, Via Trading typically turns over inventory within 30 days, shipping customer orders that can range from a full truckload of merchandise for a discount store, to a single UPS box for a stay at home mom selling handbags on eBay.
"Our growth has been very, very quick," Jacques Stambouli said. "We sell to eBayers, Craigslist resellers, independent eretailers, traditional merchants and flea marketers. I think it is worth mentioning that Craigslist is growing and becoming more present in cities and towns around the U.S. It can actually be extremely profitable from what we have seen. Craigslist is still free of charge for advertising or posting items in a lot of cases."
Masterful Marketing
So from a marketing standpoint, how has the company achieved this incredible growth? Via Trading has done a marvelous job establishing high keyword rankings at Yahoo, MSN, Google, AOL and other search portals.
"We have been a longstanding advertiser with Web Wholesaler Magazine, Cover, and Western Merchandiser," Stambouli explained. "And WholesaleCentral.com has been one of our better vehicles in driving traffic, too. It is a great value for the money invested at the site. We have so much new and repeat business that I know I am doing something right. It also helps that we have great deals on clothing, cosmetics and electronics, among other types of items."
Such targeted marketing strategies have helped the firm build to the point of recently moving into a 65,000 foot warehouse, the third one it has called home in four years. The company has had to keep moving to bigger spaces to accommodate its growth. And originally, there were only three or four company employees, but the staff has grown to 20 strong.
"We are hiring an additional employee every six weeks or so," he said. "We have really expanded our range of products. Whether you are a retail store, a flea marketer or an eBayer, we have the products that suit your needs. That is one of the ways in which we have distinguished ourselves from our competitors."
While the majority of the company's business has come regionally from the West Coast, it has secured some ability to serve other parts of the country. Several East Coast department stores with which Stambouli has established relationships allow Via Trading to drop-ship their inventory directly to eastern based customers if Via picks up the shipping tab.
"We actually have plans to open a warehouse in Florida in the future so we can serve our East Coast customers even more efficiently," he added. "It is more than likely going to happen during 2008."
Top CRM, Live Chat
One of the first ideas that the Stambouli brothers instituted at www.viatrading.com was that the company was going to offer top notch service. They were determined to provide the convenience of online with the warmness of old fashioned customer care. They soon implemented a live chat feature, training their service team how to juggle phone, email and then chat responsibilities.
"It helps when people are browsing online, and they might be hesitant about what to buy or what they need," Jacques Stambouli explained. "They might be in a situation where they do not want to bother picking up the phone, or perhaps they simply cannot call. This gives them another channel to reach out to us and allow us to help them."
Email is another important part of the customer relationship management (CRM) mix at Via Trading. The company intelligently put its, "Join Our Email List," box right in the middle of the homepage design, making it easy for prospects to signup for regular communications. During registration, Stambouli has designed the process so that prospects can sign up for specific categories, such as, "new truckloads," "Canadian specials," and, "goods shipped from within the European Union." Thousands of merchants have been signing up every year to receive early, special notices on the latest Via Trading offers.
There is also information available that lets them know how to contact customer care in case they do not receive the, "Welcome," email. Or, if for some reason they want to discontinue their list membership, there are instructions on how to opt out.
"The email list has grown to more than 23,000," Stambouli said. "We started out with a very basic website. But we are actually in the process of rolling out a whole new website that will support everything we have offered in an increasingly enhanced manner."
Indeed, the relaunched version will offer online ordering, faster navigability, more interactivity and customer login. In terms of the latter, customers will be able to keep track of their transactions in a secure environment. They will be able to easily send pages to friends, as well as forward email campaigns.
The Stamboulis have been working on the redesign for months. In fact, underscoring how seriously they take the small details in running their web based business, they actually scrapped a nearly finalized version in order to start anew. The old adage, "If it is worth doing, it is worth doing right," definitely applies to the executive leadership style at Via Trading. "It will be like a completely different website, compared to the one we have now," Jacques Stambouli explained. "The look and feel will be dramatically improved."
Personal Touch
For now, www.viatrading.com visitors immediately notice the bevy of hotlinked photos that are displayed around the site. The images showcase many angles to what the work environment looks like at the fulfillment center in Vernon. Stambouli added that similar photos will appear at the new site when it debuts.
"We want people to know that we are a legitimate company that owns the product that we sell," he said. "The photos demonstrate that we are not one of those Internet characters from The Wild West we have all heard about. I think this is especially important to make clear in our sector of mixed merchandise."
People who click on the images are taken to a page that states, "Visitors Welcome. Open 67 Hours a Week! No Appointments Needed." This is an invitation to come in and get a first hand glimpse of what is exactly on the pallets. Viewers can also find video links at the website that will take them behind the scenes, with footage shot during featured news segments from various broadcast networks and stations.
"We encourage people to come in, touch and see the products before they buy them," Stambouli explained. "We almost operate like a cash and carry business. We do not just have our southern California customers come in. There are also people who drive from Nevada, Utah, northern California and Mexico. They have grown to trust our offers, but they still like the personal touch our in-house team gives them. We truly like to put faces to names and names to faces. Person to person customer service is an irreplaceable part of our online-offline vision."
Without question, the original vision that inspired his master's thesis has turned out even better than he could have imagined. Since that fateful day in the library, Stambouli has been combining two elements, of which there is never too much surplus: innovation and common sense.
Now that he and his brother are growing the company like crazy, there is little left to contemplate. Well, actually, there is one thing:
What grade did he get on that thesis paper?
"It was one of my better papers, let me put it that way," Stambouli said, being a bit modest at first. "I actually ended up getting my best grade in that class."
For more information, contact:
Via Trading Corp.
2750 S. Alameda St.
Vernon, CA, 90058
Tel.: 323-232-1616
Toll Free: 877-202-3616
Fax: 877-677-5975
Website: www.viatrading.com
Entire contents ©2023, Sumner Communications, Inc. (203) 748-2050. All rights reserved. No part of this service may be reproduced in any form without the express written permission of Sumner Communications, Inc. except that an individual may download and/or forward articles via e-mail to a reasonable number of recipients for personal, non-commercial purposes.