INDEPENDENT RETAILER magazine is now the official news outlet for Wholesale Central visitors. Each monthly issue is packed with new product ideas, supplier profiles, retailing news, and business strategies to help you succeed.

See new articles daily online at IndependentRetailer.com.
HI-DOW INTERNATIONAL introduces, Sweeper Slippers. They have a removable microfiber on the bottom of an attractive slipper that absorbs dust, thereby sweeping the floor while they are worn.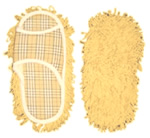 The bottom, which is a looped, mop like configuration of the microfiber, is also super absorbent, and without bending or stretching, it can be used to clean up spills. It detaches with Velcro and can also be used to clean cars, windows, cabinets and other horizontal and vertical surfaces.
It and the upper portion of the slipper, which is made of terry cloth, can be washed in the washing machine. The pair comes individually packaged in a plastic bag. The Sweeper Slippers are currently available in one color, but additional colors are joining the line.
The minimum order is a case of 24 pairs. The wholesale price is $4.58 a unit, and suggested retail is $19.90 a pair.
For more information, contact:
Hi-Dow International
2200 Westport Plaza Drive Suite 211
St. Louis, MO 63146
Tel.: 314-878-5113
Fax: 314-453-9883
Website: www.hi-dow.com
Entire contents ©2021, Sumner Communications, Inc. (203) 748-2050. All rights reserved. No part of this service may be reproduced in any form without the express written permission of Sumner Communications, Inc. except that an individual may download and/or forward articles via e-mail to a reasonable number of recipients for personal, non-commercial purposes.