INDEPENDENT RETAILER magazine is now the official news outlet for Wholesale Central visitors. Each monthly issue is packed with new product ideas, supplier profiles, retailing news, and business strategies to help you succeed.

See new articles daily online at IndependentRetailer.com.
AROMA SOCKS LLC introduces Aroma Socks, which are infused with a choice of 12 different scents. They are made in Australia of 80 percent cotton and 20 percent nylon, and offered in sizes for children, women and men.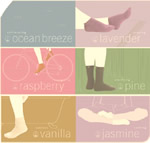 Each is designed for the left or right foot and has contoured ribbing on the bottom. As feet warm up, they emit the scent, and are also soothing and comfortable to wear. The scent stays for approximately 10 hand washings, and, afterwards there is still a great pair of socks.
Among the scents are: pine, strawberry, vanilla, raspberry, gardenia, peppermint, Tropicana, lavender and rose. The company is developing a displayer that illustrates the Aroma Socks' unique benefit.
The minimum order is 10 dozen pair, and it can contain an assortment of scents. The wholesale cost for children's sizes is $4 a pair. It is $4.25 a pair for ladies' low cut versions, and both the children's and low cuts have a suggested retail price of $9.50 a pair. The wholesale price for the crew sock version is $4.50 a pair, and the suggested retail price is $9.99 a pair.
For more information, contact:
Aroma Socks LLC
P.O. Box 64
Newington, GA 30446
Tel.: 912-978-1070
Fax: 912-857-6800
Website: www.aromasocks.com
Entire contents ©2021, Sumner Communications, Inc. (203) 748-2050. All rights reserved. No part of this service may be reproduced in any form without the express written permission of Sumner Communications, Inc. except that an individual may download and/or forward articles via e-mail to a reasonable number of recipients for personal, non-commercial purposes.